Organising and Cleaning The Kitchen
Posted On September 3, 2012

Day 1 of "The Organised Housewife's 20 Day Challenge" and we are Cleaning and Organising The Kitchen. Let me start by saying that our Kitchen was in an average state.  It is the hub of our home.  Literally.  You can see it from the living and dining room, there is no escaping it.  So we try to keep it fairly clean and tidy….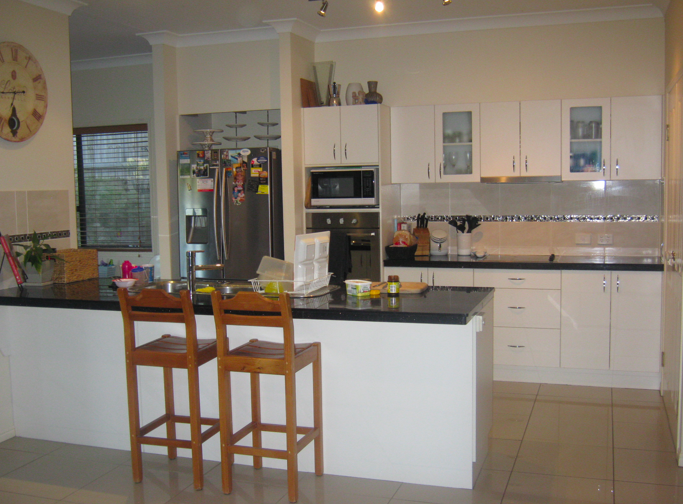 Here it is mid breakfast prep. We have a "Galley" style Kitchen.  It is fairly small with ok storage space but Oh how we wish we had made it bigger! Hey doesn't everyone. Notice the hole above the Fridge? Lets just say it pays to measure the height of your new fridge.  Oh and the plant.  Hubby's addition to the decor!
What we like about our kitchen.
It is central in the house so I can see everyone whilst "working" in there.

Good Size pantry

Granite Bench tops

 Coffee Cupboard! ( A small cupboard at the end of the bench fro the toaster, kettle, coffee and tea etc)

Ok number of powerpoints

 Wall oven
More bench space!

Closer to the entertaing/outside area of the house

More of a u shape or non walk through!  Baby gates are a nightmare in this kitchen!!!

More storage space!!!

Bigger oven and stove top! Ours just came with the house and we wish we had of looked into this further.  Our oven is tiny!!!
There were three areas I wanted to declutter  and clean!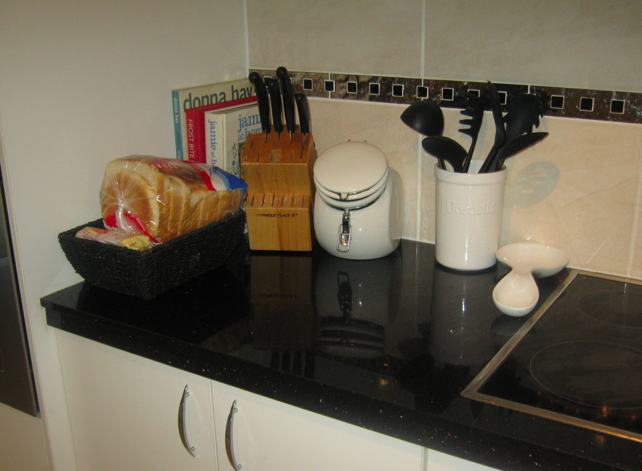 Area 1 – I really want to get rid of the cook books.  They are rarely used and don't need to be on display taking up bench space! The bread!!!  I hate it being on display!  The biscuit style jar holds salt.  Apparently essential for any "woggy" kitchen!
AFTER- I moved the utensil jar onto the other side of the cooktop.
The recipe books got moved into "The Great Wall of Ikea" Wall Unit
This bread tin was an awesome buy form Kmart!  It was a while ago and they were a set of two tins (a bsicuit tin came with it) for about $15.
BEFORE – Talk about out of sight, out of mind!  This is our under sink cupboard!  We loose a lot of space due to the ("In Sink-er-ator??) Speaking of which…these are a must!!! I buy everything in bulk when on special, hence the multiple packets of wipes and dishwashing tablets!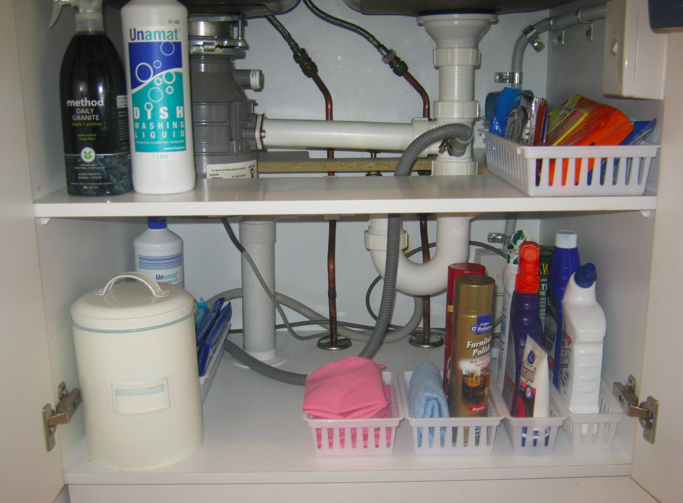 AFTER – Yes I had all of these containers around the house!  Just call me a basket hoarder! The large tin now holds the dishwashing tablets!  It is a Jamie Oliver tin I bought from Target.  It was sitting under the stairs as I felt it used to clutter our bench
top!
The baskets are all from Kmart.  I have tried to keep like items together.  Furniture cleaning, Scrubbing etc.
Behind the tin is "The Stockpile" of cleaning products.  Unopened products.  On the top shelf are our everyday items.  As you can see I love wipes!!!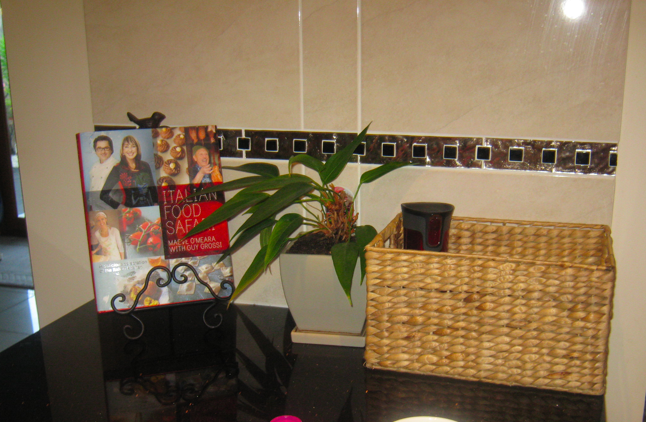 BEFORE – This last area is the end of the bench.  The plant was a present from a student many years ago!  But it needs a new home!  This basket literally appeared on the bench last week.  Thats what happens when your husband has a day off work!  I like to keep a little basket/container here for our daily water bottles.  I am hopeless at drinking water so if I cant see it there calling me, I forget to drink!!!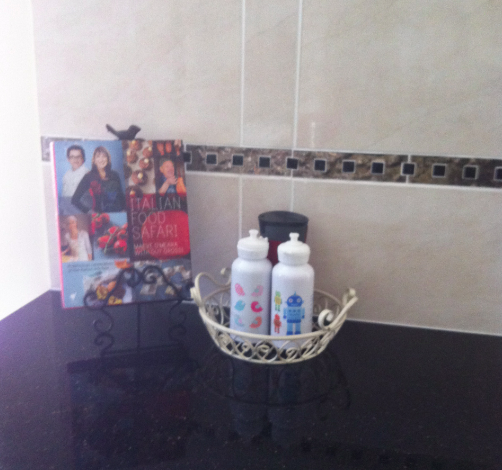 AFTER – Good bye plant and basket!  I have had this little basket for ever!  Now the kids drinks and my awesome CONTIGO drink are tidy but visible.
Over the last year we have organised a few other areas of the Kitchen…you can read about them HERE…..