The Launch Pad – A peek into our Mud Room.
Posted On April 19, 2019
I can not believe it is Term 2! I know for a fact, that every term I say this term will be busy, but….THIS TERM IS CRAZY!

Me – Full time work, part time study of my Masters, a house to manage and most importantly three kids with crazy schedules!
Master O – Year 7 course load, Soccer season, NAPLAN, two bands (equals two early starts), one speech and drama eisteddfod and life.
Little Miss A – Year 4, Athletics season (half way through the term), Cross Country season (including the dreaded early starts) two dancing eisteddfods and life.
Chunky Hunky – Prep and starting his first "real" extra curricular, RUGBY!


So how do we manage it all? Three tips.
Get Organised
Plan
Routines
and to do all of that we start each term fresh with a new Launch Pad.
What is a launch pad? It is a place in the home used to "Launch" us into our day every day. For us it has to include;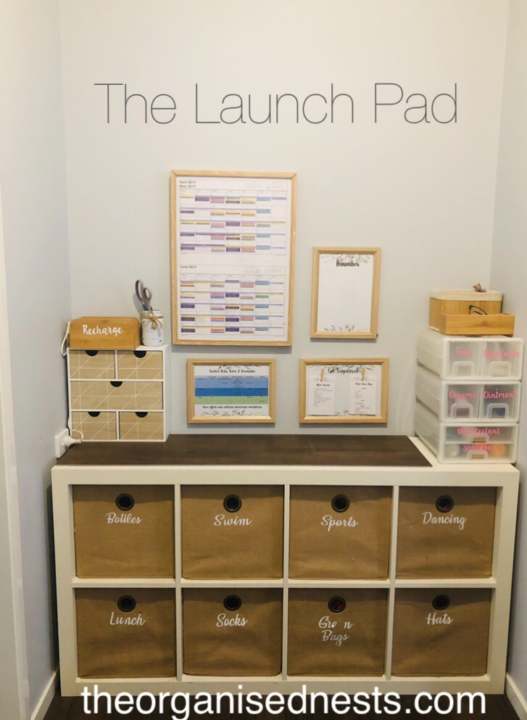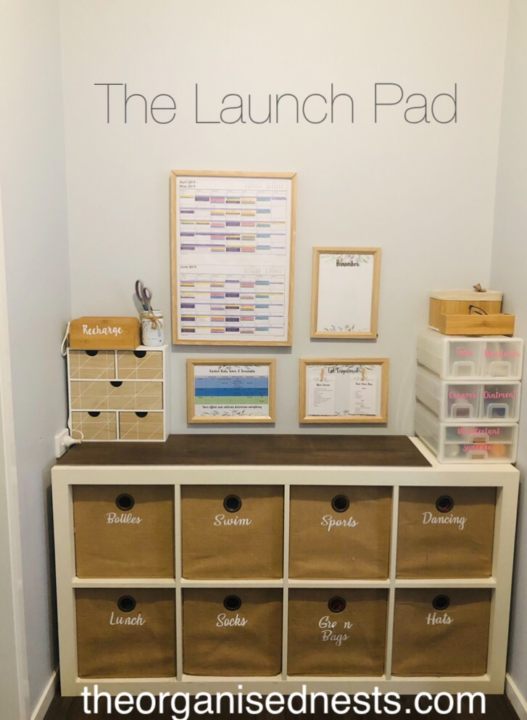 Get Organised: A place to store EVERYTHING. Everything school and activity related lives in our Ikea Kallax unit with baskets from Bunnings. It holds, drink bottles, lunch boxes and bags, hats, swim gear, dancing gear, green bags and socks.
On top of the shelves we have first aid on the right and some small drawers on the left.
In the small drawers we have; coins, name labels, sticky notes, receipts etc.

On top of those we have our charging station for all devices to rest on whilst at home (we only use devices in the car, at school, at after school activities)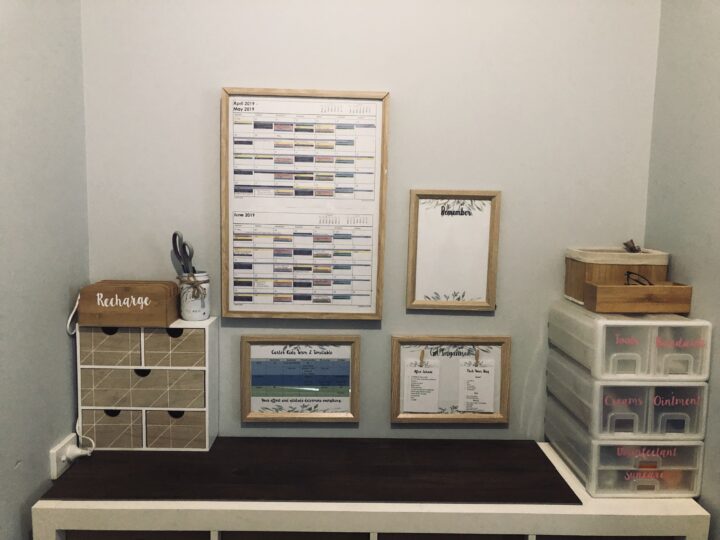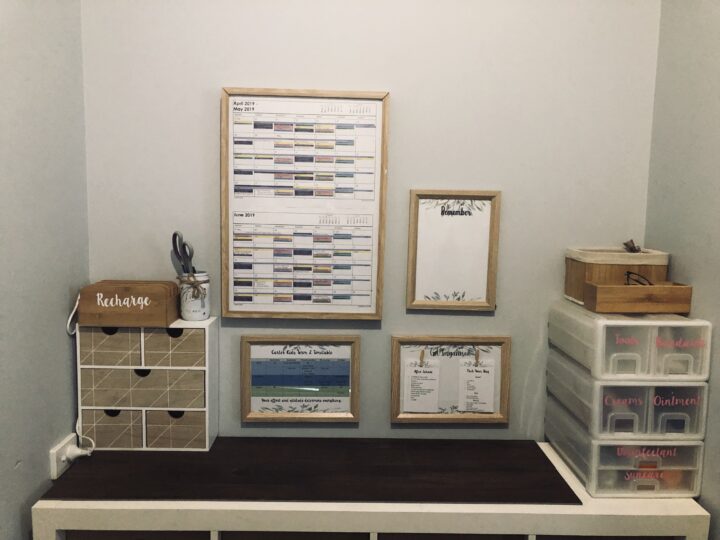 Plan: A term calendar. I make this using Outlook Calendar, a colour for each person, print and then photocopy onto a3. I then place it in an a3 frame (Kmart) so that we can add sticky notes, cross off days with a whiteboard marker etc.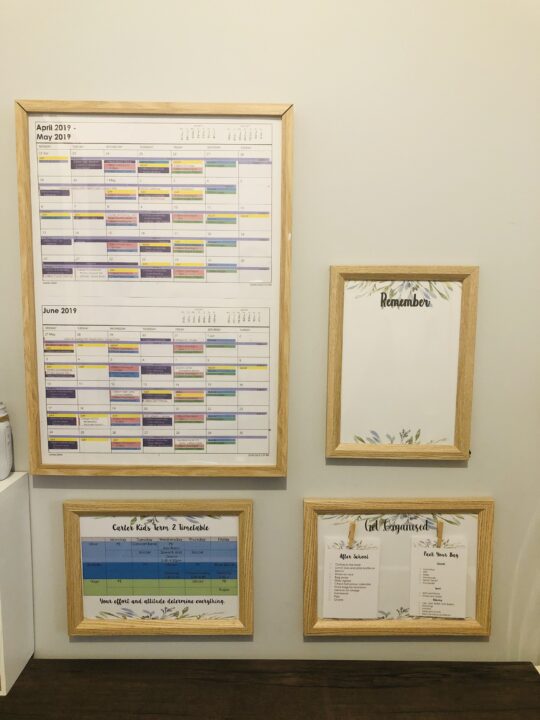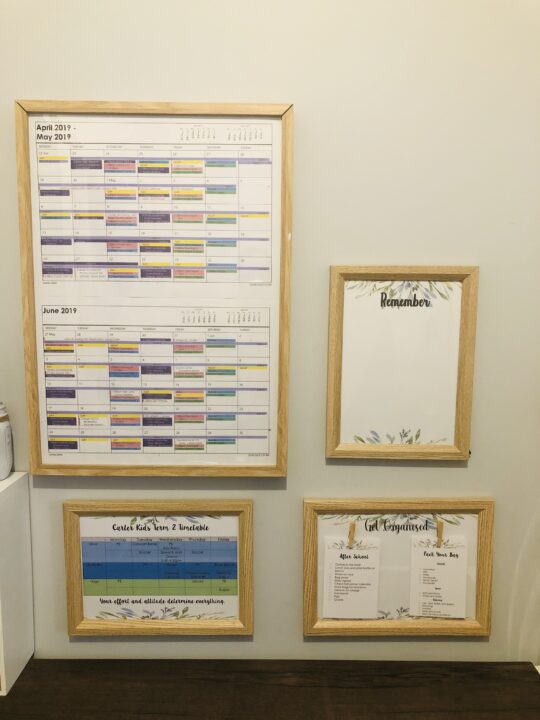 Plan: Don't Forget Board: Well that is what I originally called it but felt like just saying the word forget would mean we would forget! So we have gone with Remember! We stick sticky notes on here for the little things that pop up, like take a gold coin for a dress up day, raffle tickets on sale, a change to routine for a week etc.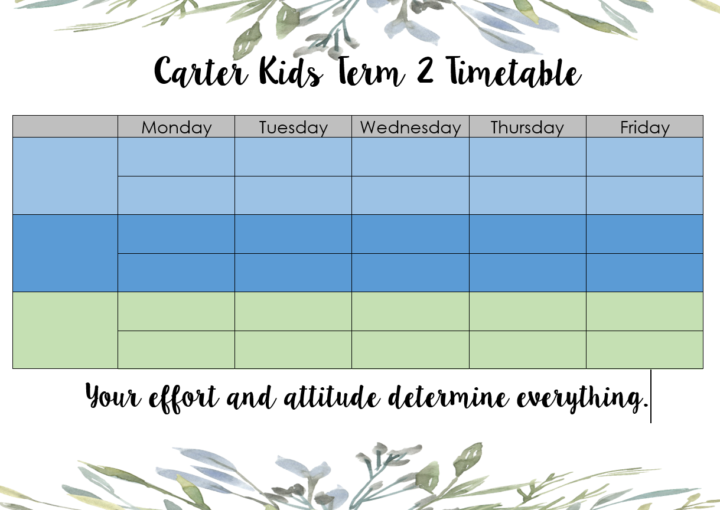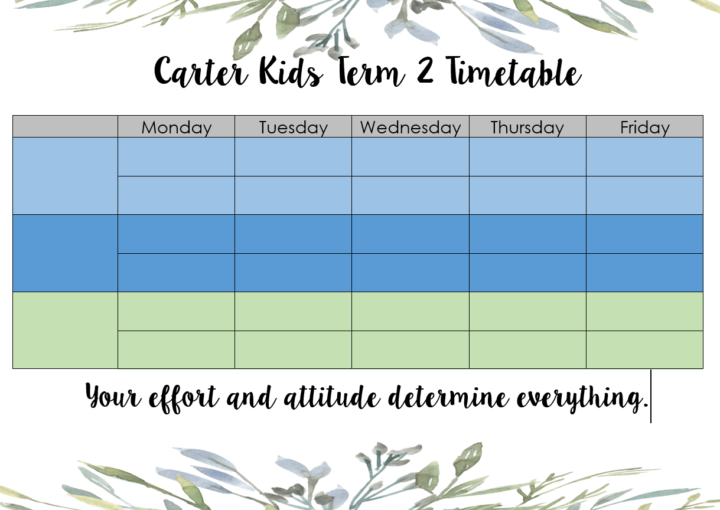 Routine: Weekly Timetable: This includes the activities that occur every week and also the school activities like uniforms, PE, Library etc.

Routine: Get Organised Board: This is a new addition to hopefully prevent me from repeating myself a million times every afternoon and every morning. Put your clothes in the wash, where is your lunch box, I haven't seen your homework. You know STUFF. ON REPEAT. I have made up lists for our most common routines (Before school, After School, Chores, Packing Bags) They can then be attached to the board using the peg whenever that job needs to be done.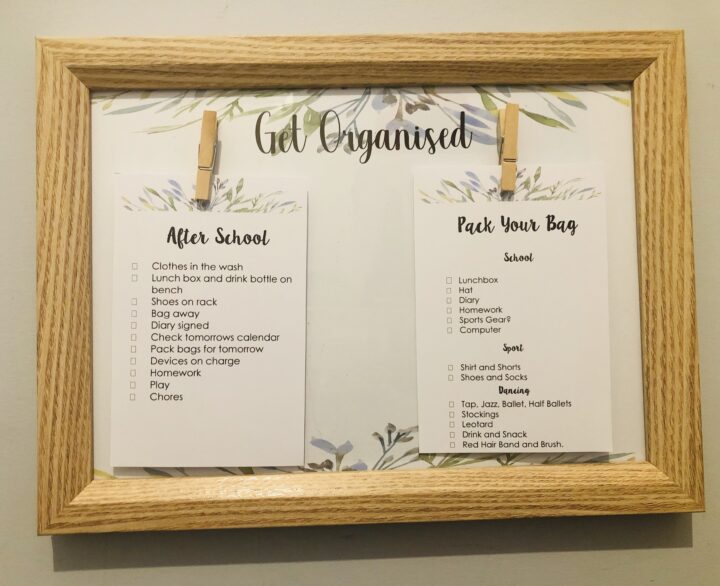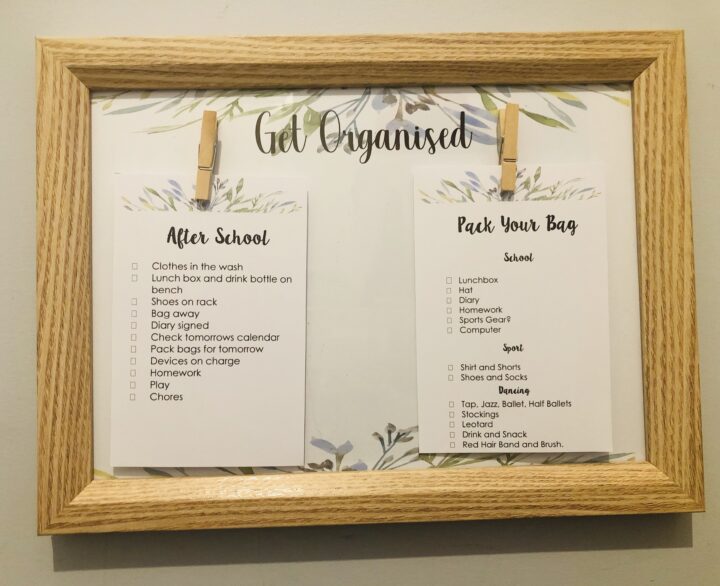 Within the Kallax Unit we have 8 baskets from Bunnings (labelled along time ago with my Silhouette Cameo and desperately needing replacing!)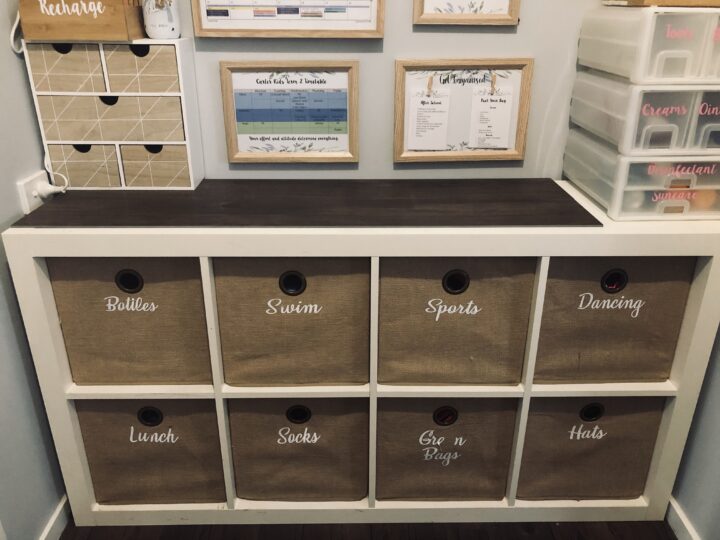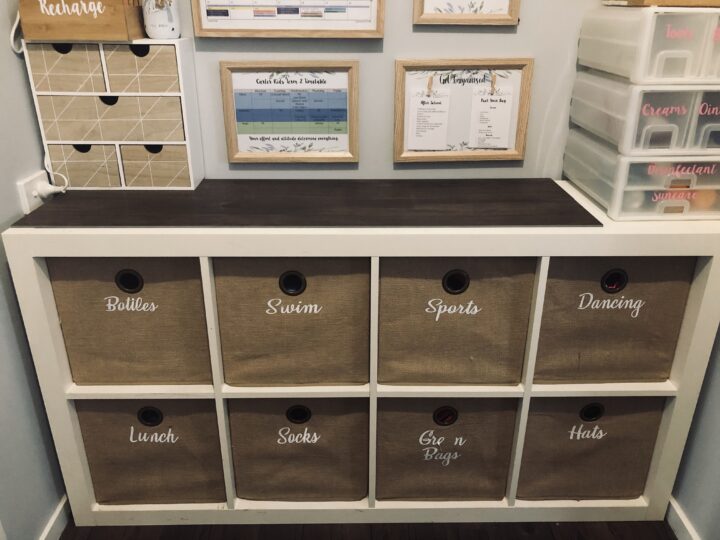 These contain; Drink Bottles, Lunch Bags and boxes, Swimming Gear, Socks, Sports gear (athletics tights, shorts etc) Green Bags, Dancing Gear (leotards and stockings) Hats. I liked the softer baskets as they don't mark the shelves and I liked that they were full size so they looked neat and tidy.
When we built the house we made sure to have a "mud room" straight off the garage and between the laundry and pantry. It is the dumping zone and home of the Launch Pad and school bag organisation (More about that in the next post!)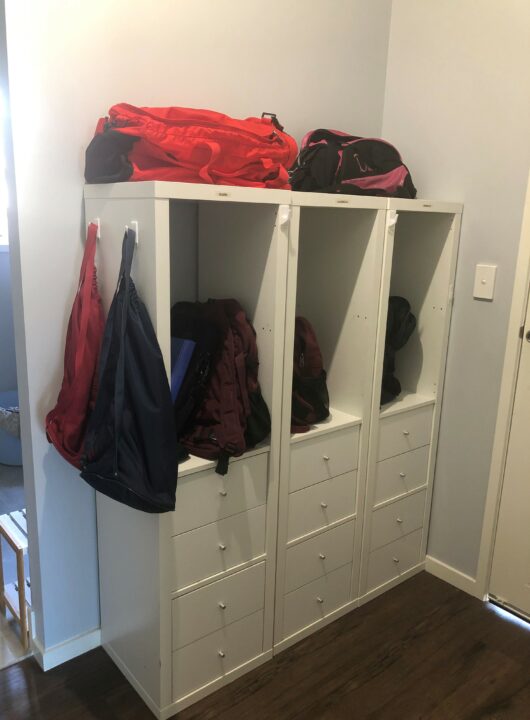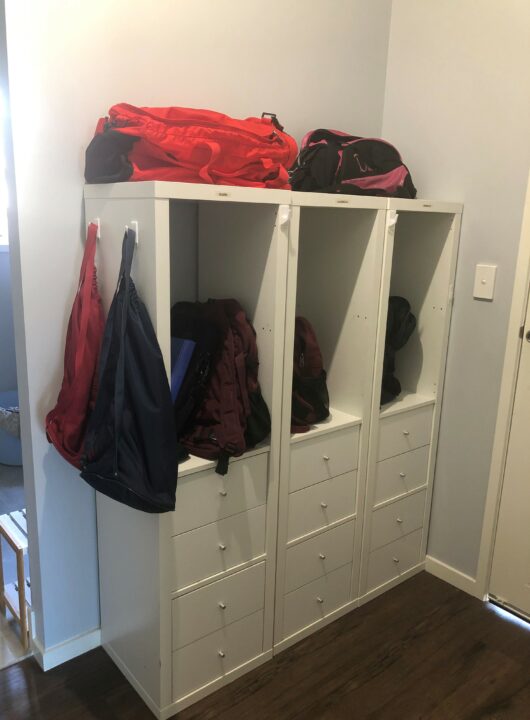 This has been life changing! This was one of our biggest issues in our old house as the storage area, laundry and pantry were all at the opposite end of the house to the garage. Now everything can be dumped (including groceries) as close to the car as possible.


So here we go, ready to hit Term 2, running, literally!