Favourite Product – DYSON REVIEW
Posted On January 12, 2016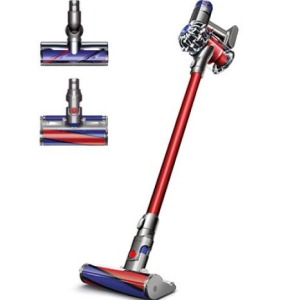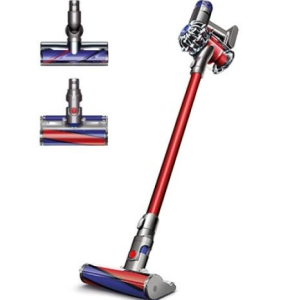 If you don't want to read about someone swooning over and falling in love with a vacuum cleaner, stop reading here.
We have lived in our house for ten years. For ten years I have been searching for the perfect vacuum cleaner. The problem being we have a big house (must have a long cord) stairs (easy to cart up and down) and multiple floor types (must be able to suck crumbs off the rug and hair out of the carpet and cereal off the tiles.)
The other problem we have had in the past is weight. Not mine but the vacuums! I am an absolute weakling and carting the big vacuum up the stairs meant I would rarely do it. The large vacuum was also cumbersome to drag out when you just want to do a quick tidy after the kids have eaten.
I have need owned or even tried a stick vacuum as I assumed it just wouldn't be powerful enough for the amount of mess and size of our house. Boy was I wrong.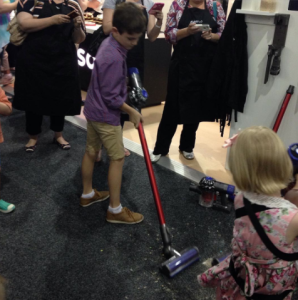 After testing out the Dyson V6 Absolute Stick Vacuum at the Good Food and Wine Show, I was obsessed! It was so light that even little Miss A could use it!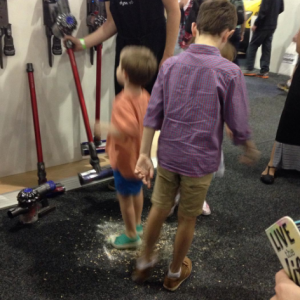 It sucked up cereal, confetti, everything quickly AND quietly!
It's manoeuvrability was excellent, the swivel head meant it was easy to get into corners and under the couch. Literally hours after I got it home, this happened…..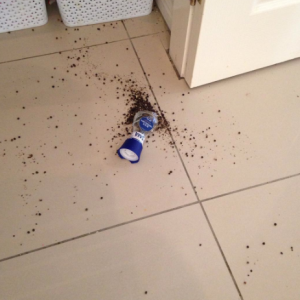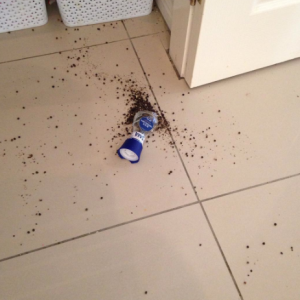 I wish I could say it was a first, but for some reason smashing the glass salt and pepper shakers seems to be a regular occurrence in this house!
What we are loving….
Run-time: This machine will run for 20 minutes, 16 with the motorized cleaner head and for 6 minutes on boost mode. This enough to do the entire floor of one level of our house.
Dyson digital motor V6: The latest Dyson digital motor gives V6 Absolute the most powerful suction of any cordless vacuum. This thing has sucked up everything! The clear barrel lets you see how much (and what!) has been sucked up and its incredible. The scary thing is how much it got out of our apparently clean rug and carpet.
2 Tier Radial™ Cyclone Technology: Flings dust out of the air and into the bin, separating out even the most microscopic particles.
Handheld conversion: Hands down (no pun intended!) I am an absolute stick vacuum convert. The ease of being able to vacuum the stairs or grab it out for a quick run around with no cord to plug in is amazing.
Extra tools: I don't know what they are all called but all the tools that come with it are great. My window tracks have never been so clean love the little nozzle pack and love using "short" version (just remove the wand) of the vacuum for cleaning the car. The wand can be easily removed and tools attached directly to the cyclone pack for cleaning stairs, couches, mattress and car interiors.
Quiet: This Vacuum doesn't scare our little hurricane boy like the last, most probably due to the fact that it is noticeably quieter.
Cords Free: With a house full of stairs and lots of quick cleans required the convenience of no cords is a winner.
The Dyson V6 Absolute has a RRP of $899 and is worth every cent. This is by far the best item we got in 2015 and has literally changed the way we clean!
To find your own local stockist click HERE