Reader's Organised Nest – The Wardrobe
Posted On August 24, 2015
After almost 5 years of blogging about Organised Spaces, I am still constantly searching for inspiration on how to maintain an organised home.  It is easy to get caught up in the Pinterest and Instagram homes and their meticulously organised spaces. But there is still nothing better than seeing a "real" space, to motivate you to get organised and provide you with fresh ideas that have a realistic price tag and practicality in their perfection.
So without further adieu I would love to share an Organised Space of one of our readers.  Alicia's Master Wardrobe caught my eye with its uniformity, dual purpose (dressing area as well as wardrobe) great storage options and it simple yet beautifully styled practicality.  She recently shared her space with me and how she made it happen.
Who uses this space?
As the main wardrobe for both myself and my husband I had always dreamed of something classy yet that still appeased my long suffering husband and his fears of when I go on an organisation bender. Cue disgruntled remarks, "Where are my undies now!" On that note I knew keeping it as simple as possible and yet still stylish was the key when organising this space.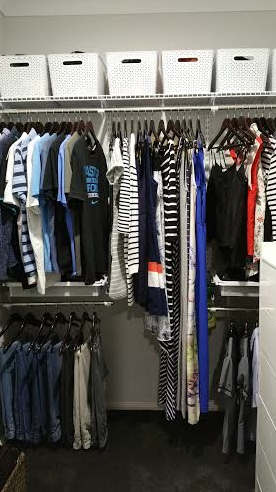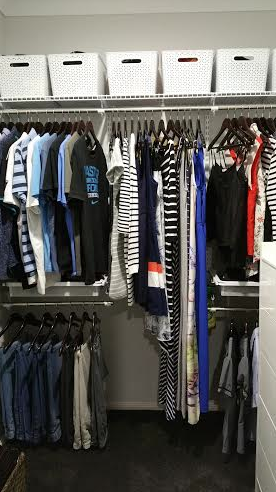 Why did you choose this space to organise?
I'm a firm believer of 'A place for everything and everything in its place'. Being a space that I visit frequently each day I knew that I wanted my wardrobe to be a place that made me feel good about myself every time I got dressed. So when I found myself having to wade through a sea of floor clothes to get dressed each morning I knew that it time to make some changes.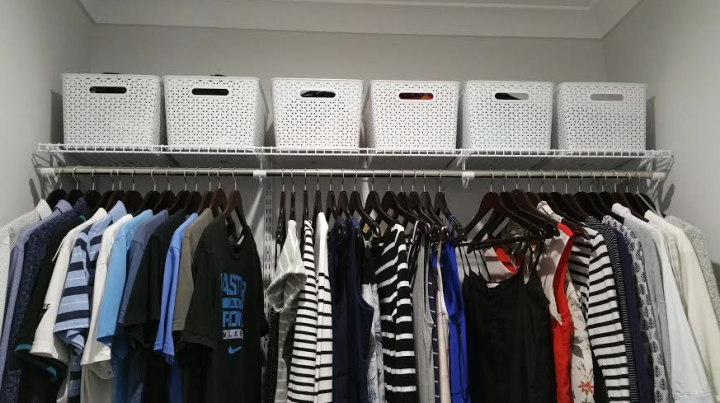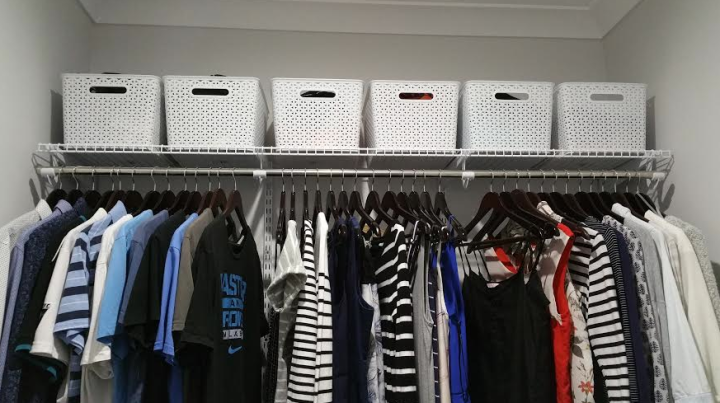 How did you tackle it?
To tackle the problem head on the first thing I did was purge, purge, purge! I sorted through all of our clothes, keeping those we actually used and either donating or binning the rest (some rather holey 'lucky' shorts may have been smuggled out in the wheelie bin).
What products did you use? 
The bones of the closet were created using the Bunning's Clever Closet system. This was originally purchased as a cheap alternative with dreams of custom cabinetry for the long term however I have fallen in love with the simple elegance of the system (and also the price tag – the whole set up cost only approximately $200). I created specific zones for both mine and my husband's clothes to make it as functional as possible. The system is completely customisable enabling me to take full use of just one wall of hanging space.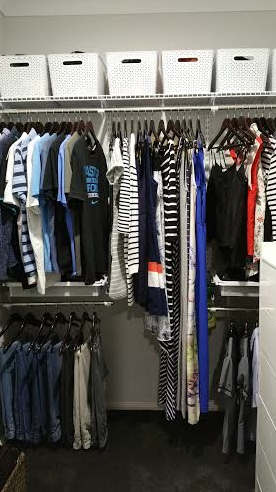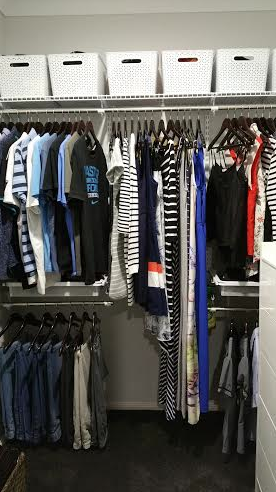 The white chest of drawers were a previously owned item but I kept with the crisp white colour pattern to make the space feel bright and clean. The white baskets were an awesome find from Woolworths – I seriously have about twenty of these babies all over my house. They come in white or black and two sizes. I used these to store all of our less commonly used clothes like jumpers and my husband's insanely large football hat collection out of sight.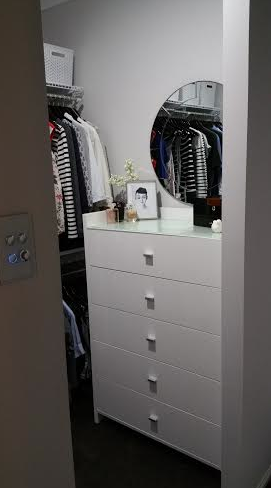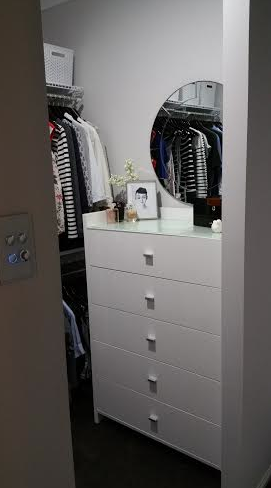 The dark stain timber coat hangers were my splurge item, however to ease the cost I slowly built up a supply over several months. They were from Howards Storage at $32.95 for a pack of 18. But any matching hanger will create the same effect and make the space feel more put together.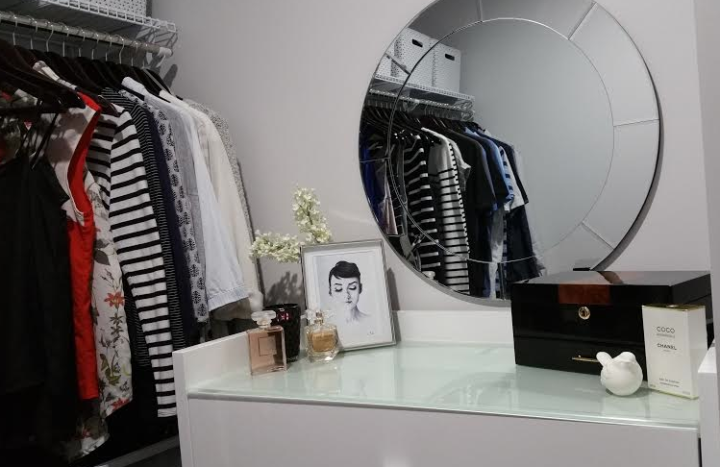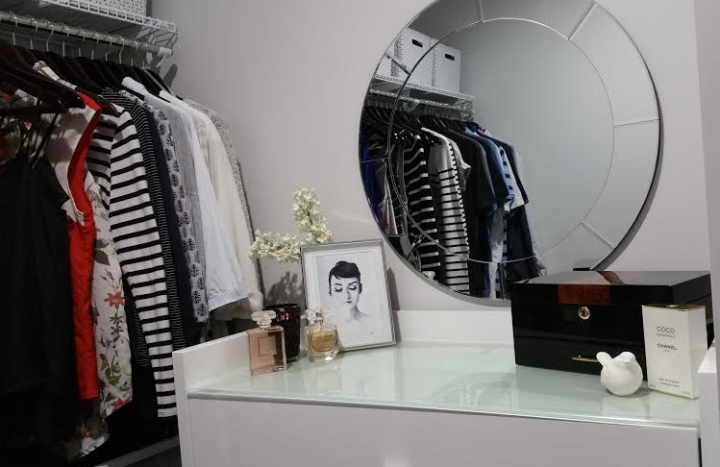 Any tips or tricks?
I love how by just making everything uniform a space can really feel finished and together. By just having the same repeating white basket and matching hangers it creates a feel of harmony.
How is the end product working for you now?
I absolutely love this wardrobe now! My hearts sings a happy little organised song every time I glance it! And no more cries of lost undies from the hubby to date!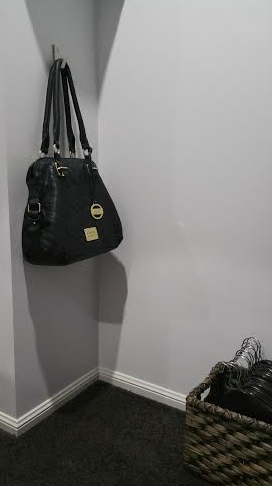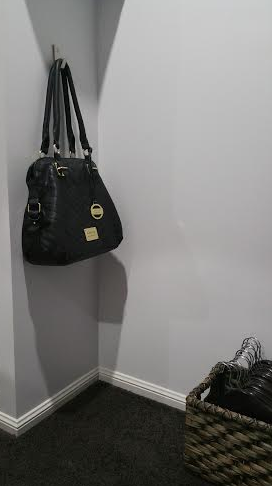 Thanks so much to Alicia for sharing her space with us.
 and check out her Pantry!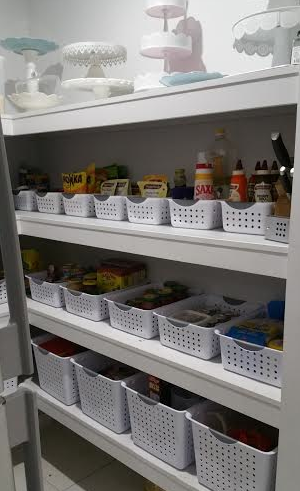 Have you got an organised space you would love to share?  We would love to see it!  Email [email protected]