Creating Calm Bathroom Routines
Posted On August 10, 2015

Brought to you by Johnson's and Nuffnang
Bath Time! Whilst pregnant with our third baby, bath time was one of those parts of our daily routine that I was stressed about. We were finally at a stage in our lives, where both children could shower or bath themselves with only supervision needed to make sure they didn't flood the bathroom and were actually washing themselves! Now we were throwing a baby into the bath time mix. (ok not literally, I assure you there was no throwing of the baby)
Of course in the end, I had nothing to worry about as our bath time routines were so habitualised, adding a baby was more fun than chaos.
How we create calm, happy and healthy bath times……..
Routine, Routine, Routine
We have always followed the same routine. Now the baby joins in the routine too! We have a cute little routine chart in the bathroom just incase anyone gets sidetracked or carried away with mucking around when they should be getting ready to have a bath! It has both pictures (for non readers) and words to help remind them of the order in which they do things at bath time.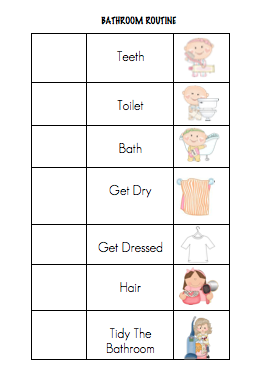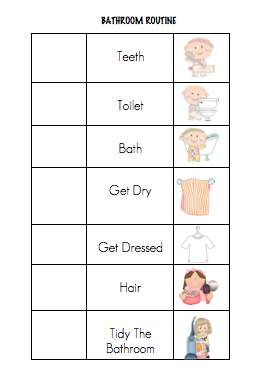 By following a routine, everyone knows what they SHOULD be doing. It also ensures that some practical and safety aspects of bathing three children occur. For example, going to the toilet before you get in the bath ensures that you don't need to leave one child in the bath to take another one to the toilet or have wet slippery children attempting to walk across the tiles to go to the toilet.
One In All In
This is one of those practical, bathing multiple children tips. I find it easiest to have the one bath time for everyone. Luckily for me, our main bathroom has a separate toilet, vanity area, shower and bath. Plenty of room for 3 kids and an adult! First I run the bath for the baby and Little Miss A (5). Once the bath is full, Master O then has a shower.
Splish, Splash, Learn
Bath time is not just a fun time and a time to get clean. It is the perfect opportunity to encourage learning!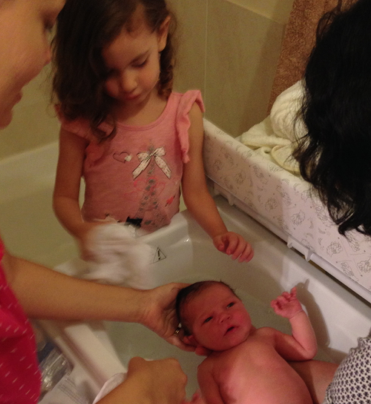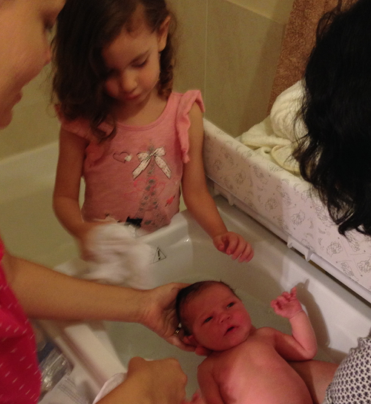 We don't have your traditional rubber duckies but instead lots of empty shampoo, and baby bath containers! The most fought over are always the pump action ones. Playing with items like these is a great way to introduce new vocabulary and concepts like empty and full, sink and float, heavy and light.
Little Miss A (5) also loves to teach her baby brother how to wash himself. "This is the way we wash our belly/legs/face" she sings and demonstrates!
SINGING! Incy Wincy Spider (complete with water falling down!) Rub A Dub-Dub, Wet Washing Hanging on the line (using a wash cloth) are bath favourites.
Sensory stimulation. Water is a great way to stimulate senses, so are bubbles! We love to create a bubbly bath (using the Johnsons top to toe bath so it doesn't sting their eyes) and then use the bubbles to blow at each other, create Santa beards or shark fins! You can also smear some shaving cream on the tiles and let them squish and finger paint with it!
All of this language, sensory stimulation and modeling is important for babies development and gives older siblings a great opportunity to bond with the baby!
Safety Sensibilities
I make sure the dinner has been turned off, the phone is off and I have all my attention on bath time. Before anybody gets in the bath we check we have towels, washcloths, soap, pajamas at the ready. This allows me to NEVER leave a child unattended in the bathroom.
Wash Up, Clean Up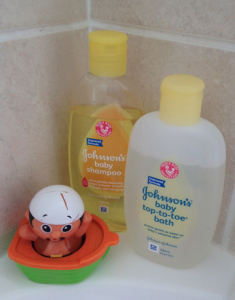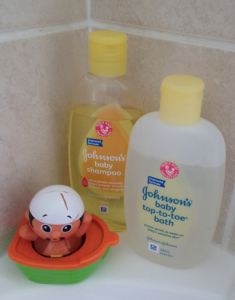 Cleaning up after the bath is all part of the routine. Putting away toys, putting lids back on bottles, hanging up towels, emptying the bath, putting dirty clothes down the laundry chute and drying the floor, all encourages cooperation amongst siblings and makes sure the bathroom is left clean, safe and tidy ready for the next day.
It Never Ends
Our bath time routine doesn't end with the bath. Afterwards we brush our hair, moisturise (poor Little Miss A is especially prone to dry skin) and our Little Hurricane gets his nightly massage. For a child that is never still, a massage has him chilling out! Studies have shown that routine touch and massage can lead to improved physiological, cognitive, emotional and social development. Specifically, routine baby massage has been shown to improve cognitive performance and increase alertness and attentiveness. I just love massaging those chunky arms and legs!
With a few simple routines in place, a few great products and some organisation, bath time can be a calm and happy time that stimulate the senses, promotes growth and development and special bonding time with even the smallest member of the household.
You can find our FREE BATHROOM ROUTINE CHART HERE