Finding The Perfect Floor Plan
Posted On August 5, 2015
What Type of Floor Plan is Best for Your Home?
We were lucky enough, many years ago, to build our own home.  One of the biggest deciding factors for us to build and not just buy was that we would get a floor plan, perfectly suited to our needs.  Once we found a block of land we found that our floor plan needs changed.  Not only would it need to fit our lifestyle but it had to fit on our block!  With a narrow lot we opted for a two storey design, in order to fit more house on our land and optimise space for a backyard.
Like houses, floor plans come in all shapes and sizes. The best one for your home depends on a range of factors such as your budget, block size, as well as your design preferences and size requirements. When building a new home with  a builder such as Coral Homes, there are a number of different house designs and floor plans available to choose from.
THE OPTIONS
Single Storey Floor Plans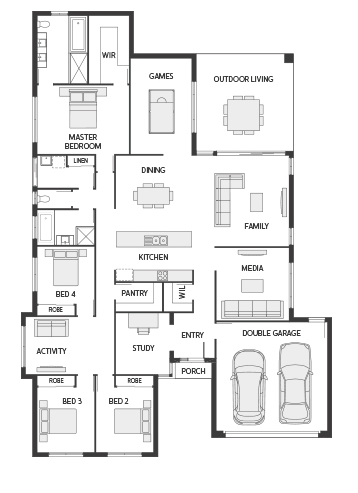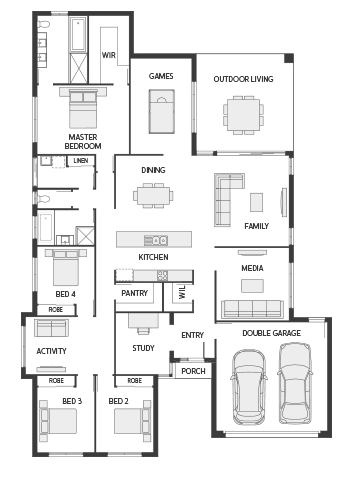 Single storey floor plans are the most commonly chosen floor plan for newly built homes. From a building perspective, they are often the cheapest to build as they suit many blocks of land. Because of the number of designs available, there are both large and small single storey plans with different layouts. Designs vary from simple rectangle floor plans, which may be small or large based on the amount square footage and the number of bedrooms required. Complex single storey floor plans may have separate wings extending from main part of the building.
Narrow Block Floor Plans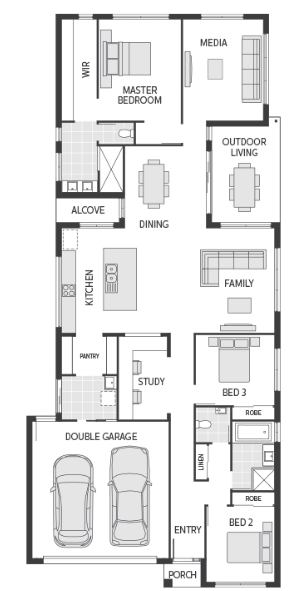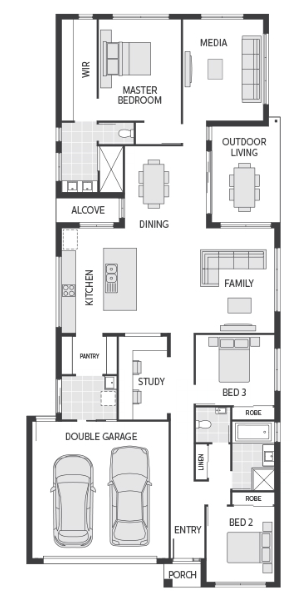 As their name suggests, narrow block floor plans have a narrow width. They are primarily used on small blocks and those with a narrow street frontage, often in inner city areas. They usually have a sun room, front or rear porches, and almost always have a hallway. Because of their limited width, double garages may be difficult to accommodate in the floor plan on a narrow block. Depending on the overall size of the home, they may be more affordable to build than some other floor plan styles.
Split Level Floor Plans
Split-level floor plans are used in homes that have multiple floors but don't necessarily have the same amount of space on each floor. Split-level homes are often well accommodated on sloped blocks, working with the contours of the land. On a block that slopes gently upwards, the lower level including laundry, garage and spare bedroom can partly be built into the hill, providing much of the support for the upper level. The majority of the living space is then accommodated on the upper floor. Split-level floor plans are often more expensive to build, especially if extensive earthmoving and site works are required.
Double Storey Floor Plans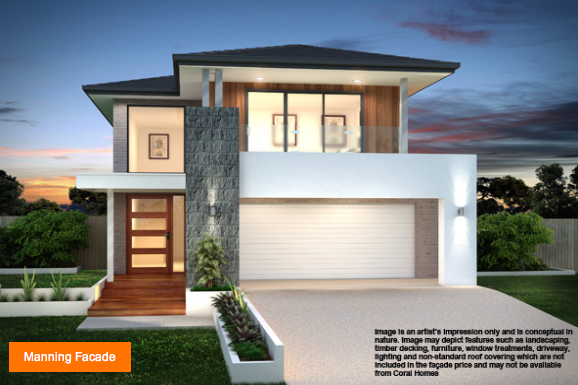 Double storey floor are often popular with larger families and those with older children. A complex double storey floor plan may have separate entrances on each level, as well as kitchen, bathroom and bedroom facilities to make each floor fully self-contained. Because of their size and the amount of materials used, double storey floor plans are always more expensive than single storey homes. It is a myth, however, that they are double the price.
Wide Frontage Floor Plans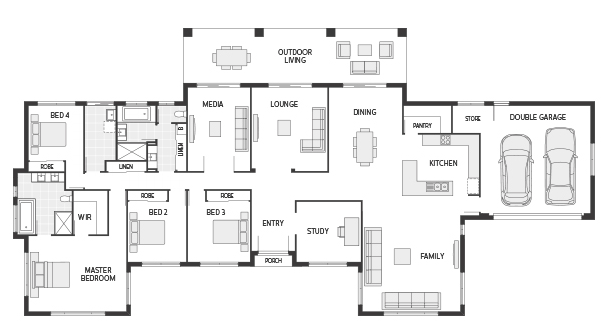 Wide frontage floor plans are suited to large and wide blocks of land, including corner blocks that allow two street entrances, as well as acreage or ranch style homes. Because of their size, they may be a long rectangle or U or L shaped. Wide frontage floor plans are suited to large families and those that like a lot of space.
The dimensions and size of your block will likely dictate the floor plan that you choose; however, within each category a number of different options and layouts are available. When choosing the right floor plan for you, it's important to consider the position of certain rooms in relation to on another, their location on the lot, and their size.
Once you have a general idea of the type of your home you wish to build you can start considering other aspects of the floor plan.  How many bedrooms?  Bathrooms? Bedrooms to the rear of the plan?  Outdoor living space off the kitchen?  The possibilities are endless!
What would you prioritise in a new home floor plan?
All plans and images were taken form the Coral Homes website.