Baby Food Recipes Your Toddler Will Love
Posted On July 31, 2015
……….and the rest of the family will LOVE too!
Brought to you by Heinz
Can you believe the youngest member of our family (The Hurricane) is now 15 months old?
He is fast, agile, never sleeps and eats like a champion!  In a busy family he has no time to be fussy and eats what we eat.
Now I know you are really here for the recipes but first a few things about meals for our youngest member.
He has 14 teeth (so even chunky meat is a breeze)
All recipes have to be great for the whole family as I don't cook him separate meals.  He eats what we eat, when we eat.
Majority of meals must be able to be eaten independently using either a fork, spoon, or fingers. This encourages fine motor, hand eye coordination and speech skills (little speakers grow strong jaws and agile tongues when they are eating chunky foods)
So what do we eat?  Here are some of our favourite Toddler approved, family friendly recipes.
OUR FAVOURITE RECIPES
Oven Baked Salmon with Asparagus and Broccolini.
Salmon is one of those wonder foods and "the hurricane" can't get enough of it! Bake it in the oven over some slices of lemon and covered in foil.  Steam broccolini and asparagus.  These are two easy vegetables to cook and for little hands to hold!
Pumpkin and Tuna Penne
Grate Pumpkin.  Sauté it in a fry pan with some olive oil and then add a tin of tuna.  In a pot boil the pasta.  We choose Penne as it is easy to stick a fork into or if all else fails, fingers!  Combine the Pumpkin and Tuna mixture with the pasta,  squeeze some lemon over the top and a serve with a bit of chopped parsley.
Ravioli with Meatballs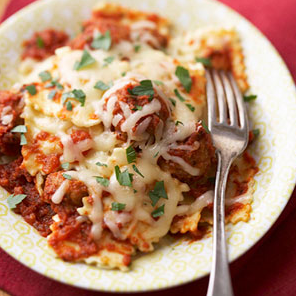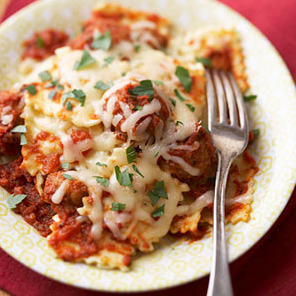 This is one of my favourite last minute meals.  I always keep a container of ready-made ravioli in the freezer.  You can actually cook it in the pot from frozen, no defrosting necessary.  I also make a double batch of meatballs (pork mince with fennel is our favourite) and keep some in the freezer.  Cook the meatballs in some crushed tomatoes and here is the trick, add a jar of Heinz Beef and Vegetable Casserole.  Trust me it's delish and a great way of adding some hidden veggies!
Beef Burgers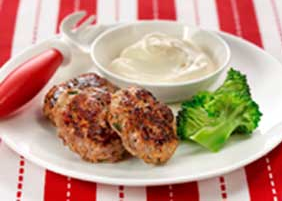 Who doesn't love a burger!  We love to have a "create your own burger bar" with everyone choosing their own toppings!  The hidden secret is in the muesli!
Ingredients
200g lean beef mince
2 Tbsp Farex® Muesli with Apple
1 Tbsp finely grated onion
1 Tbsp finely grated carrot
1 Tbsp finely grated peeled apple
1 Tbsp parsley, finely chopped
1 egg
Method
Combine Ingredients to make small patties and fry or BBQ.
Sandwich Sushi
Great for our bento lunch boxes and snacks on the run the sushi sandwich options are endless! Simply cut the crusts off bread, give it a quick roll to flatten.  Lay out your ingredients on the bread, roll and cut!   It looks fancy but it really is not.  These are great bite size snack for a toddler to grab but also fit perfectly in a school lunch box.
Banana Pikelets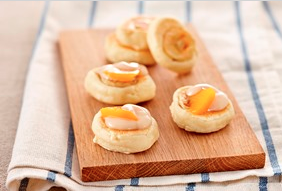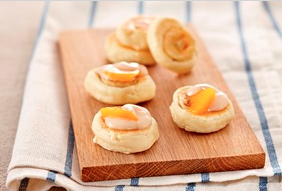 After school and on the way to extra curriculuar activities or even at home in his high chair whilst Mummy has her coffee, Banana pikelets are a winner.
Ingredients
1 cup self-raising flour
¼ tsp bi-carbonate of soda
¾ cup milk
¼ cup natural yoghurt
¼ tsp vanilla extract
1 banana, finely sliced
1x 120g pouch HEINZ® Strawberry & Vanilla Custard
Method
Combine flour and bi-carb in a large mixing bowl. Add milk, yoghurt and vanilla. Whisk until smooth. Refrigerate for 20 minutes.
Pre-heat a frying pan over medium low heat. Spray with oil and spoon tablespoons of mixture into pan. Place a slice of banana on top of each pikelet. Cook for 3-4 minutes each side.
Serve pikelets with a dollop of Heinz® pouch and favourite soft fresh fruit.
As much as we encourage independent feeding for our toddler sometimes circumstances call for a quicker, cleaner option.  Especially for on the plane (oh boy, feeding children when travelling can be a thing of nightmares) I love the baby food pouches especially ones filled with ingredients I wouldn't normally buy like a great way to explore some new flavours without the mess and fuss.
With a little preparation and creative thinking feeding a toddler doesn't have to be stressful and messy! With a few key ingredients it's easy to create meals that your toddler will eat and the whole family will love. Check out the Heinz website and Facebook page for more tips and recipe ideas!
You can also find our list of 100 Kids Bento Lunch Ideas HERE
Image Credits –
henizforbaby.com.au (Pikelets and Beef Burgers)
taste.com.au (Sandwich Sushi)
recipe.com (Ravioli)