The Erin Condren Teacher Planner
Posted On July 8, 2015
It's HERE!  After much anticipation the new ERIN CONDREN TEACHER PLANNER has been released!  I have had two years with my EC Teacher Planner and I LOVE IT!  Its practical, functional, colourful and so much more gorgeous to look at then your regular Teacher Planner.  It comes with pockets, a sheet protector, stickers and also a whole range of additional extras.  That is a whole other post!  But what I get asked about the most is…..it "looks" great but what are the "guts" of the planner like.  So I am now going to take you on a little tour!
THE COVER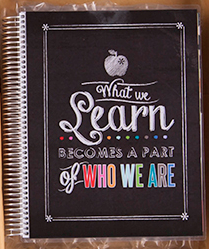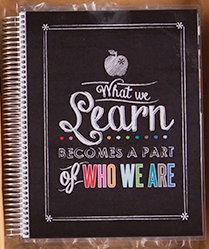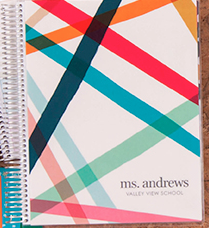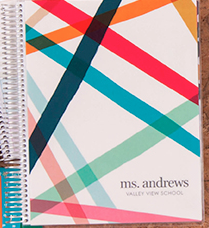 There are two kinds of cover for your planner
1. Ready To Ship (RTS)   If you in a hurry (which I doubt most Australians are as we still have 6 months left of the current school year) Ready To Ship means your cover will be standard (see pic above) with no personalisation but it will get to you super fast!
2. Personalised. For me one of the things I love most about everything Erin Condren is the personalisation.  If you choose this option your planner will take longer to ship but three are literally dozens of cover options!
ALL covers are
wire coil bound
interchangeable (they remove off the coil when you feel like changing them)
laminated
durable
colourful
double sided
THE INSIDE or THE "GUTS"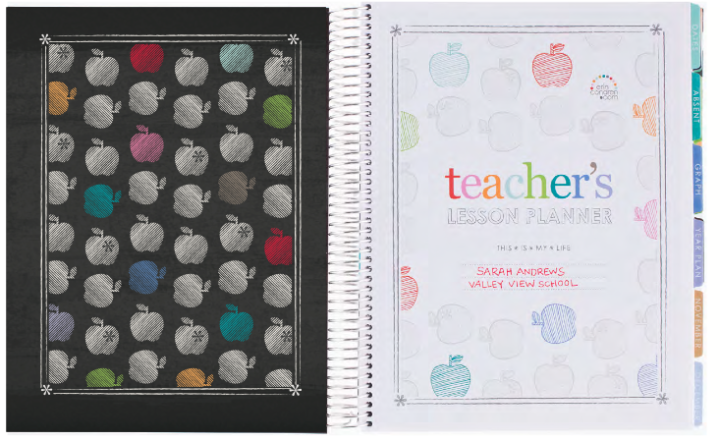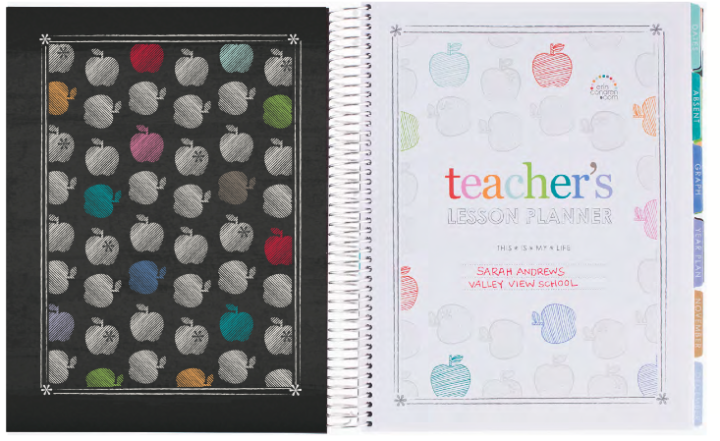 On the first page of the planner you have the inside image of your cover on the left and on the right your contact information/cover page.  Here you can also see the tabs which are laminated and colourful.
IMPORTANT INFORMATION PAGE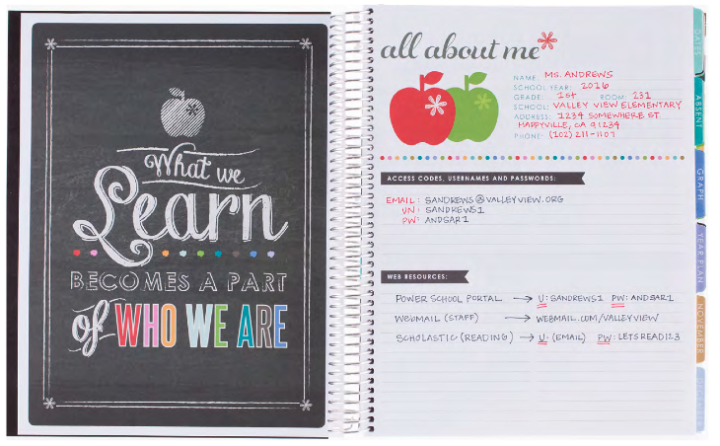 Motivational quote pages are scattered throughout the planner and the first one is on the next page followed by a handy page to record personal information, passwords etc
DATES TO REMEMBER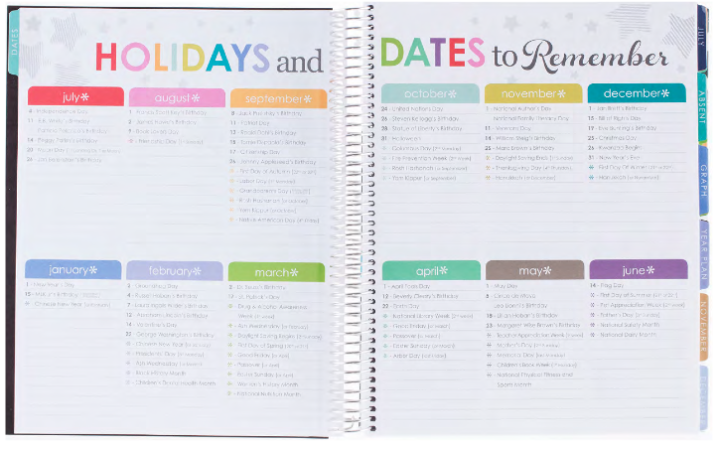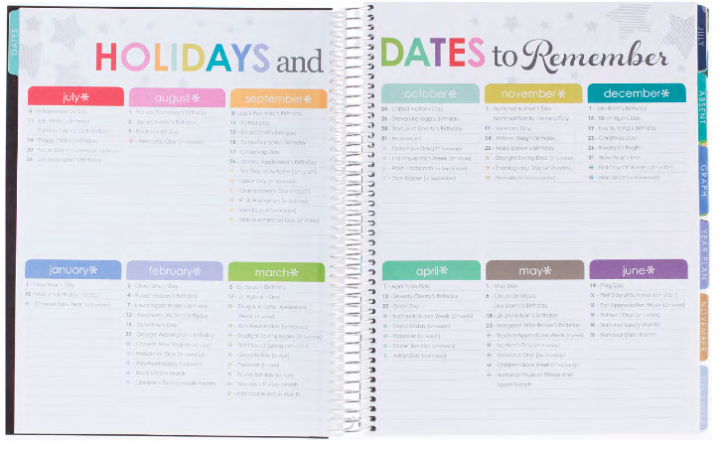 Ok here is the first teeny issue with the planner for Australian teachers.  The important dates are printed according to the american school year.  This is an easy fix.  Using the blank stickers at the back of your planner you can simply re-label the headings, changing them into the calendar year order.
BIRTHDAY CHART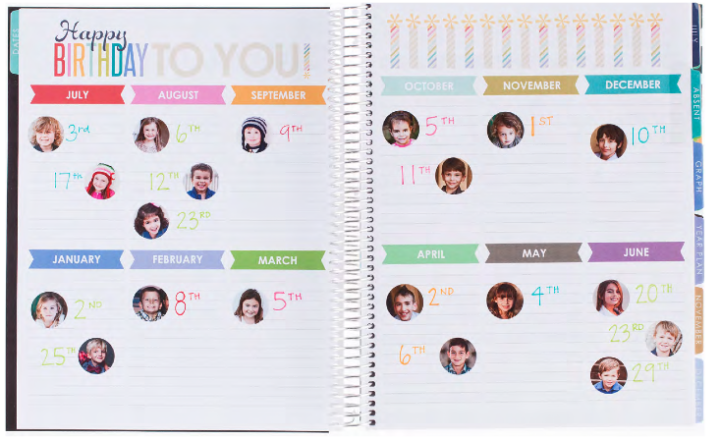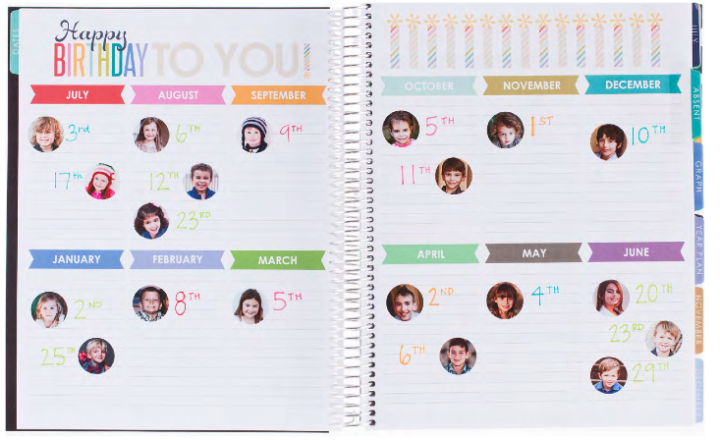 A birthday chart.  Again it's in the American year order, BUT I leave it as in Queensland students are enrolled according to their age in a July-June year.  So the oldest students will have their birthdays in July and the youngest in June.  I actually find this incredibly helpful.  Especially as I always teach in the younger grades I often look at test results, behaviour, social skills and adjust my expectations based on their age/development.
ATTENDANCE LOG (6 pages)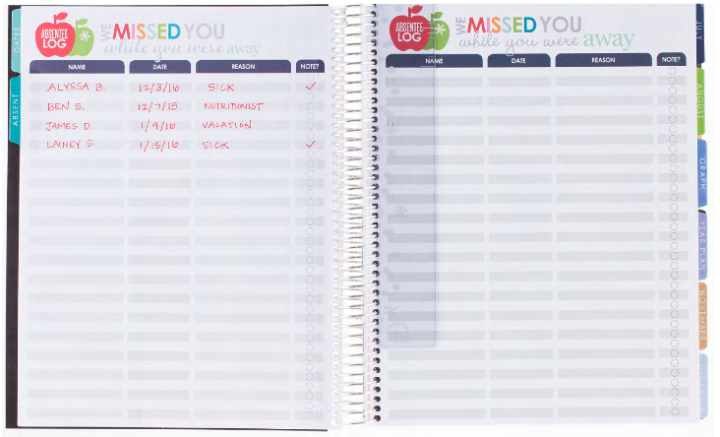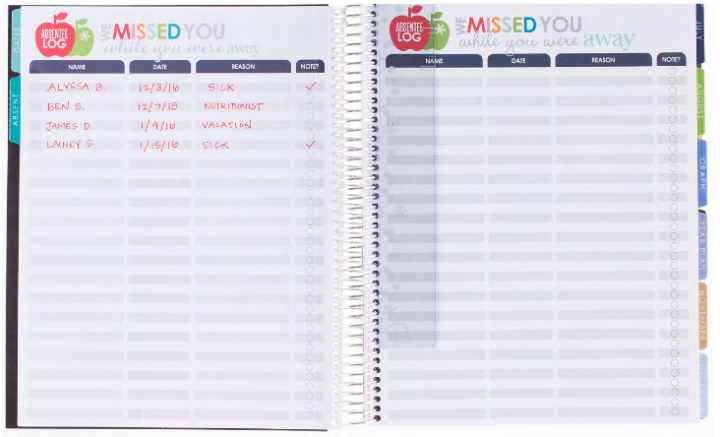 I use this page a bit differently as our attendance is recorded electronically. I use these in two ways.
To record who is absent for assessment pieces.  I write the assessment name in the name column, the date in the next and the students who miss the assessment in the reason column.  I then tick off in the note column when I have caught them up with the assessment.
I also use a set of the pages to record when parents notify my in advance of upcoming time off school for holidays, surgery etc.
GRAPH/GRID PAGES (8 pages)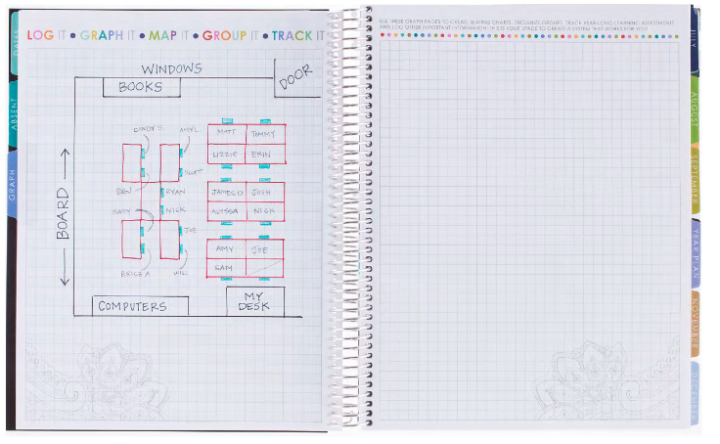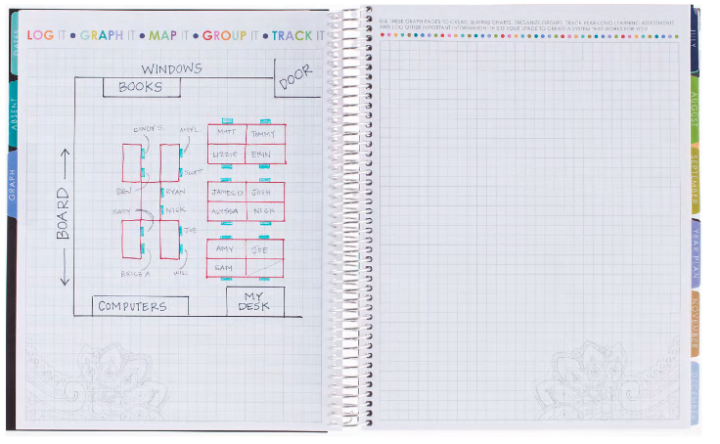 I love to rearrange my classroom!  This makes it so easy! You could also use it to chart reading levels or results.
YEAR AT A GLANCE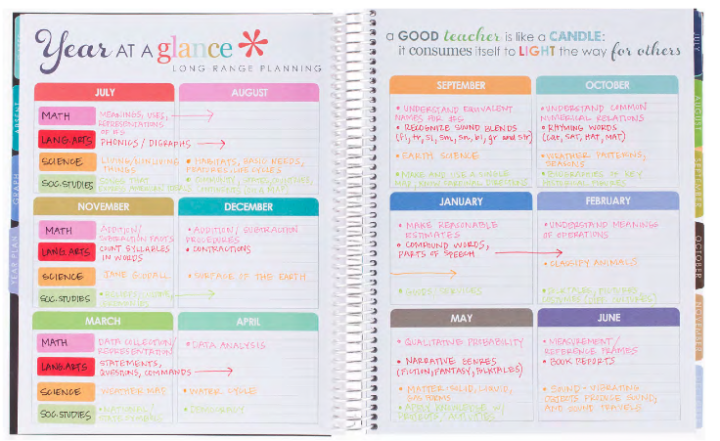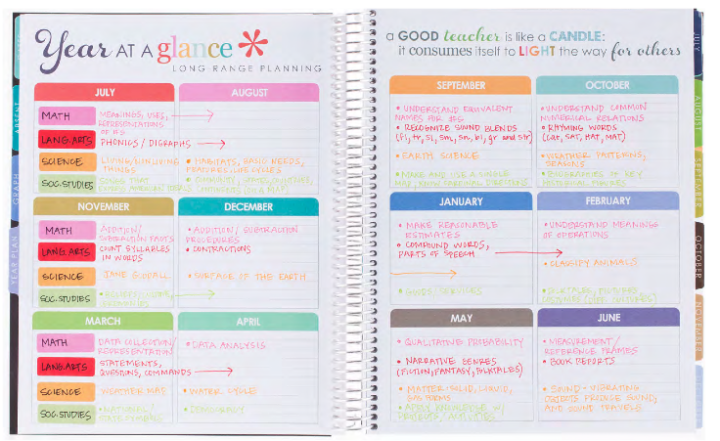 Again it's in the American order. I LOVE the way this example tracks different curriculum in colour codes across the year!  I use it in the same way but using the curriculum codes I need to cover and asses in each term.  This year I think I will also use it to colour code with my job share partner who is covering what!
MONTHLY LAYOUT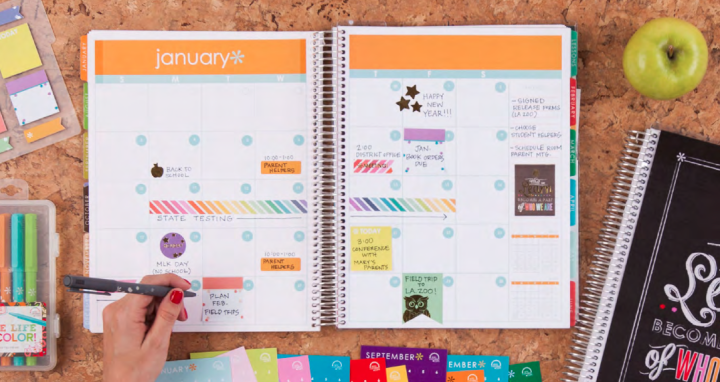 For us Australians you can request during the personalisation stage of purchase to have a January start so your months are in Calendar year order instead of financial year order.  The Monthly layouts are double page, Sunday start with a column for notes and a quick reference calendar.  The monthly layouts are UNDATED but the planner comes with colourful date dot stickers to label!
WEEKLY LAYOUT (40 double pages)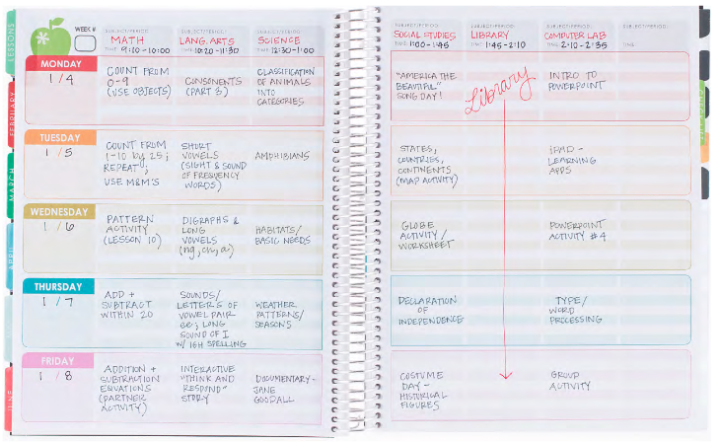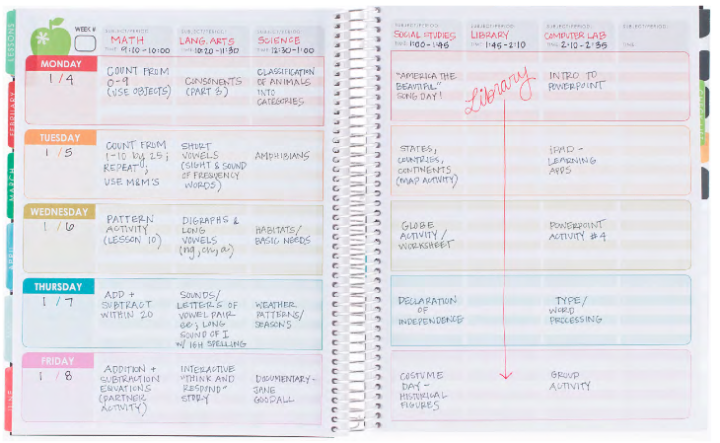 THE WEEKLY LAYOUT
The planner comes with 40 WEEKS worth of weekly layouts.  It is a horizontal layout with days down the rows and periods or curriculum across the top.  I have seen am nay people that have reversed the layout!  They covered the days with periods or curriculum and used the boxes across the top for days.  I use it as intended but do not write the subjects in at the top.  I work in a P-12 school so we all use a 6 period day.  I write the Period and time across the top, but as my "subjects" change each day depending on my timetable, specialist lessons, assemblies etc.  I just use the lines in the rows to write the subject and a basic outline of what I am covering.
CHECKLISTS (7 double spreads)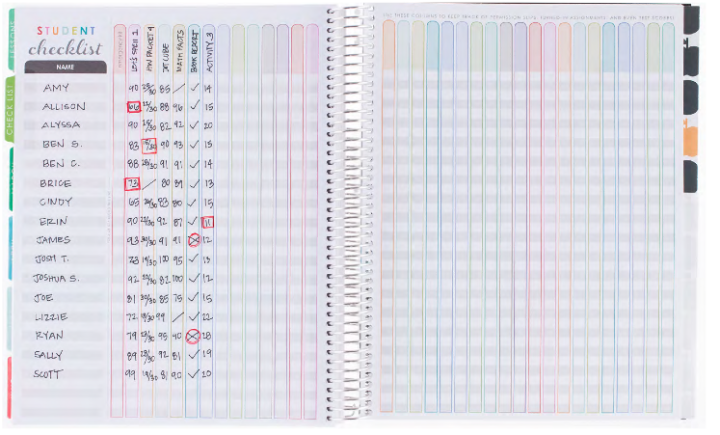 Oh this would have to be one of my favourite parts! look at those colours!  No more going cross eyed trying to read marks in gray boxes!  You can even add more checklist pages, for a small additional cost (a few dollars).
STICKERS!!!! (4 pages)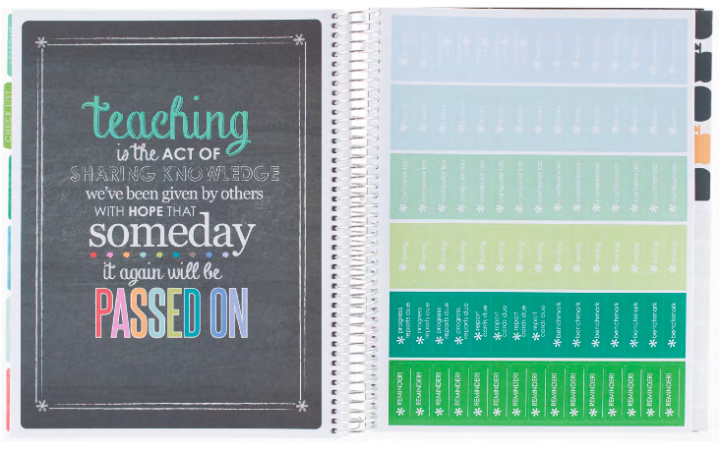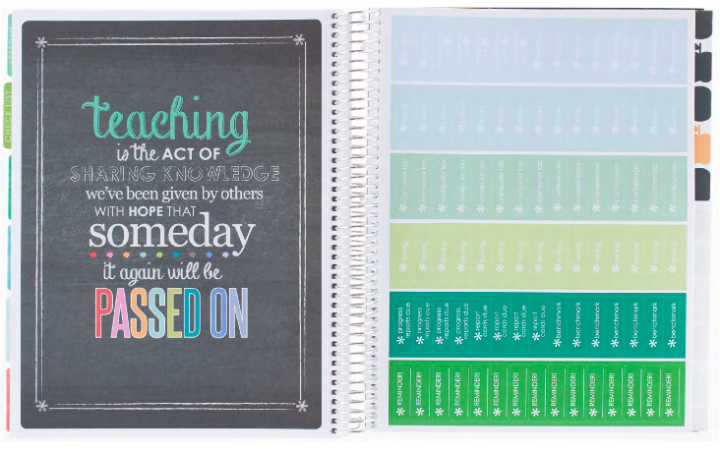 Get sick of writing the same things over and over again?  You can use a pre printed sticker instead! There are two sheets of pre-printed stickers and two sheets of blank stickers for you to write on yourself.  Pre printed stickers include things like reminders, testing dates, report cards due, library time, emergency drills, assemblies and staff meetings.  If you need more you can order additional "event" stickers in the accessories section of the website!
KEEP IT TOGETHER POCKET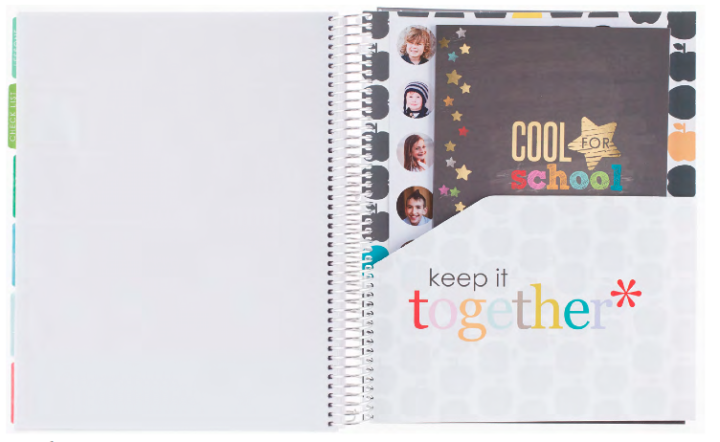 A double sided, durable, laminated finish pocket to hold all those pieces of paper in.  This has undergone a few changes each year since I have had one!
SHEET PROTECTOR and ZIPPER POUCH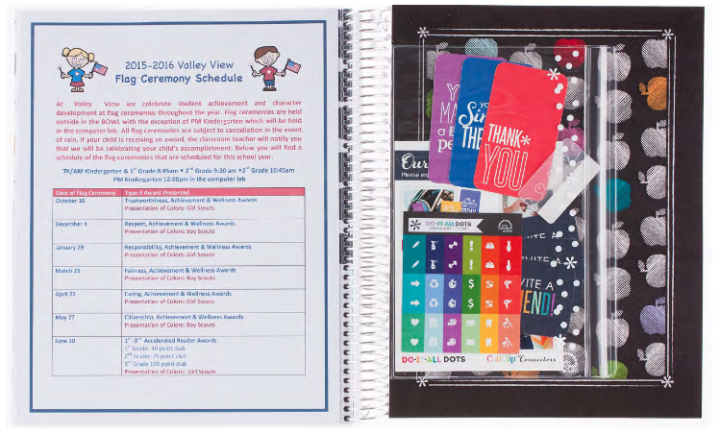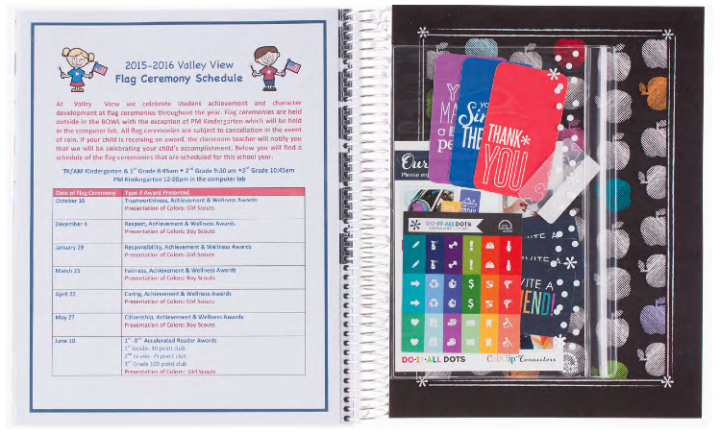 Each planner comes with ONE plastic sheet protector but you can add more (for $1.50 each) when you personalise it through the check out process.  Right at the back there is also a small zippered clear pouch great for all those little extra bits and pieces.
and then the back cover!  As colourful and laminated as the front cover!
You can add a pen holder to the back cover but this is an additional extra.
A huge bonus to this planner is the massive range of accessories that you can buy to go with it, but that is a whole other post!
Now the COST!
It is usually $59USD but is currently 25% off.  You can also get a further $10 off by using this link ;
https://www.erincondren.com/referral/invite/larissacarter
International Shipping is $19.95 which is a lot cheaper than it used to be.  Don't forget many employers will reimburse you for some of the cost of a planner and it's also a tax deduction!
Erin Condren have a great loyalty program and the more you buy, the more you save.  I am up to my fifth purchase which then gives me a $25 voucher.
*This is not a sponsored post and I am not paid by Erin Condren (I just love the stuff!) but I do get a $10 credit every time someone uses my referral link!