The Home First Aid Kit
Posted On July 5, 2015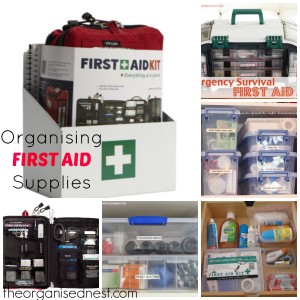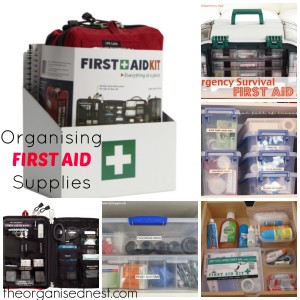 These school holidays have been chaotic to say the least.  We have had two kids down with stomach bugs, multiple head clashes and a few cuts, scrapes and ant bites to round it out.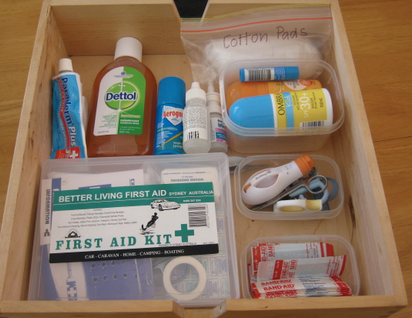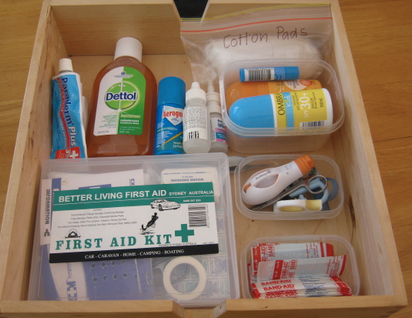 We have a first aid "drawer" in house stocked full of bandaids, creams, dettol etc but with 3 kids in the house that have progressed past the baby years and onto more serious injuries it needs some serious updating.
I want everything in one place.
Labelled for easy reference.
In a place accessible enough for the two older kids to grab (aged 8 and 5) in an emergency but out of reach of the baby.
Portable – so we can take it on holidays with us.
OPTION 1 – A FIRST AID BAG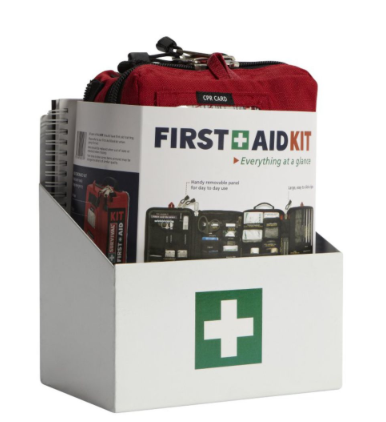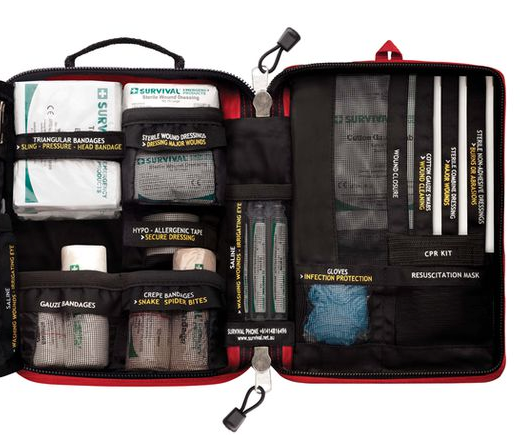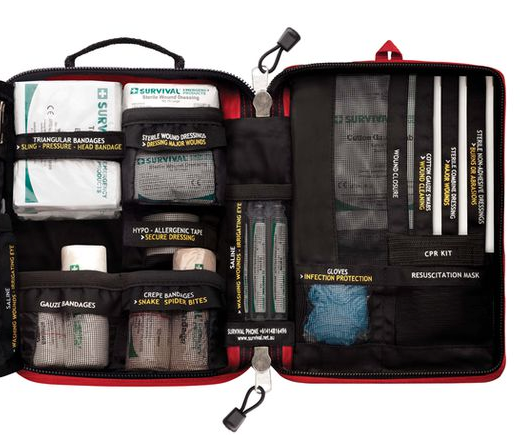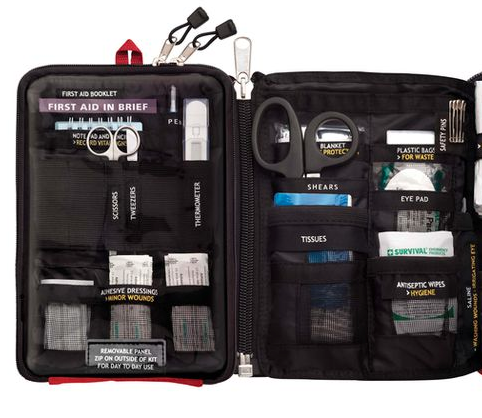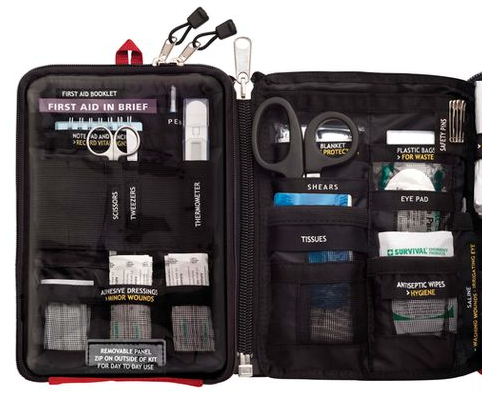 This one is from Masters and retails for $83 which considering how expensive first aid supplies are , I thought was a reasonable price.  I love that you can also buy the small container to mount onto the wall.  Absolute favourite thing about this kit is that each section is labelled! This kit was fairly basic but they had a few more extensive ones (intended for the workplace) at the $100 mark. The zippered bag would make it compact enough to take away with us. BUT….Where does the dettol go? Calamine lotion? Fisiocreme? Burn Cream?  and all the other bits and pieces we already have and use.  This option is great for emergencies but doesn't cover our everyday first aid use.
OPTION 2.  A FIRST AID TOOL BOX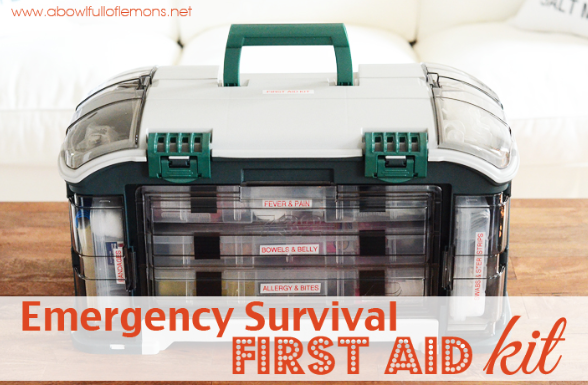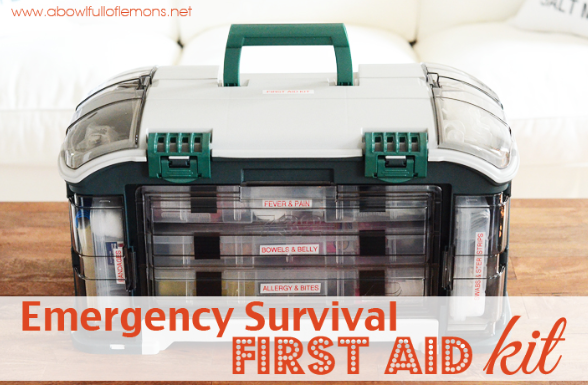 This one is from the awesome bowl full of lemons and Lori is a Nurse so she knows her first aid! I loved that everything is stored together yet separate in labelled containers.  This would be great as you can create it yourself using a tackle box and personalise it for your family.  BUT, What about the larger bottles and creams?  How do they fit in here?
OPTION 3. STORAGE CONTAINERS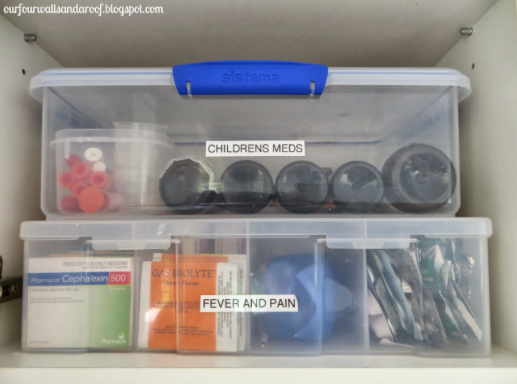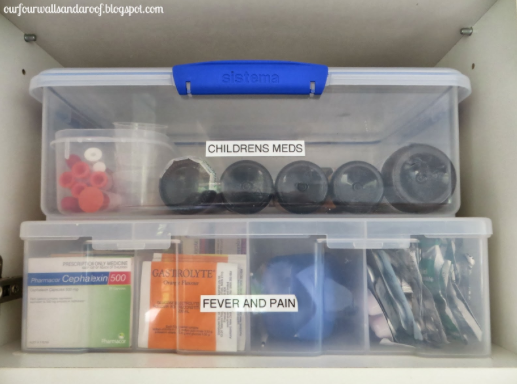 These containers are readily available, labelled and are tall enough that there is room for medicine and other large bottles.  This way I could use what I already have and everything would still have a designated space.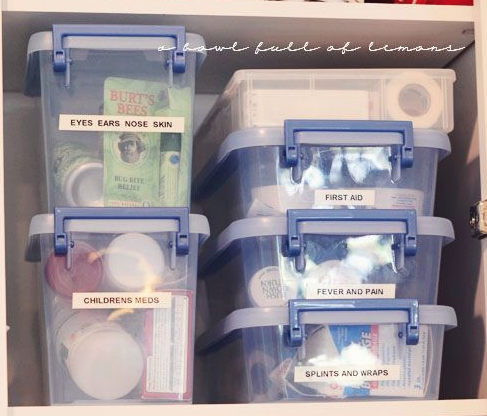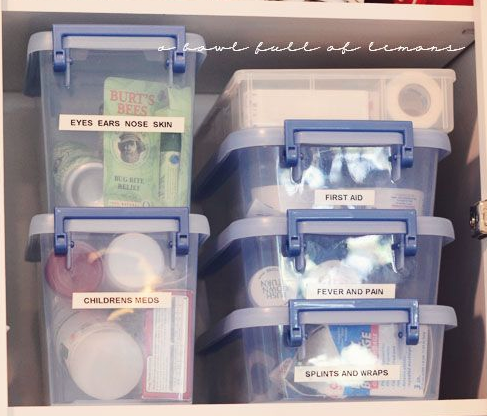 Oh how I love me an organised space full of containers.  The negative here is this system is not portable AND it takes up quite a lot of space.  BUT I do have a kind of spare cupboard (it is full but I really could declutter it and get rid of half of it!)
OPTION 4.  THE COMBO
This would be combining Option 1 (the kit in a bag) and Option 3 (the containers).  OPtion 1 is more your "Incident and Emergency Supplies"  To be honest these are the things we rarely use but must have on hand, like a first aid "insurance policy".  Option 3 is for all the things we use on a regular basis, medicines, thermometer, band aids.
So what would you recommend?  How do you organise your First Aid Supplies?