Kids Bedroom Planning and Inspiration
Posted On May 29, 2015
We seem to be a family of bedroom swappers. Without a doubt every year we reassess the kids current bedroom situations and do a swap and reorganize. From shared rooms, to creating a nursery, to sharing a guest room, to everyone having their own room, the swapping never ends in a growing family!
A few years ago we made the decision for Master O and Little Miss A to share a room.  Although some thought this was a sure clue that baby #3 was coming along it was simply because they were begging us to share!  It was one of the best decisions we ever made and resulted in an amazing nights sleep for everyone!  Little Miss A would now wake up her big brother if she was scared instead of us.  It also meant they would wake each other up in the morning and sneak down to watch tv instead of coming into us to declare that they were awake!
But earlier this year Master O expressed a desire for his own space and we made the move to separate them.  We had one problem. This would mean that we would "lose" our guest bedroom.
We NEED a guest bedroom. Both of our families live far away so when they come to visit (which is often) they stay for an extended period of time and we need to have a dedicated room for them. So beds, beds, beds!  How would we make this work?  We decided to
move Master O into the "Guest Bedroom"
leave the Queen size bed in there and
when guests come, he can move out into the lounge room on the sofa bed.
Simple. Except that's as far as we got. We literally just moved his clothes into the cupboard and only in the last month got him a new queen size quilt.  With all our bedrooms now full, thanks to baby number 3, we really need a more permanent solution, so I am  looking at affordable furniture options that will be both suitable for the needs of a growing boy and for guests.
Bed Size and Style
Ordinarily in a kids room, especially when short on space I would look at a loft bed or trundle bed. I love that this maximizes floor space and creates little niches for desks, play areas or just extra storage.
LOFT BED
TRUBDLE BED OPTIONS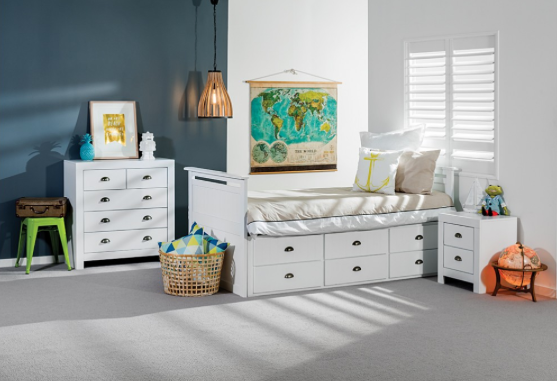 Unfortunately for me, I don't think the grandparents would be quite as excited climbing up a ladder in to bed as Master O would be. BUT, it is the absolutely perfect option for Little Miss A's room!!!!  It wont take up too much room and when guests arrive her brother can camp out on the trundle!!! and just to add, the styling of this room is perfection.  This is EXACTLY the look I would love to achieve.  Masculine but not too dark or boyish.  PERFECTION.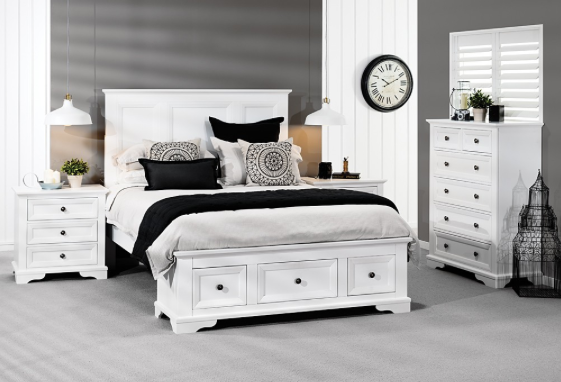 For Master O's Room we will eventually need to update his bed  (which is from before we were married 11 years ago!) or at the very least a new mattress.  A Queen Size bed that is of a classic style will fit in with the decor of his room, suit both kids and adults and be the perfect size for his average sized room.
Bed Side Tables
With two kids in one room there was previously no room for bedside tables. Add to this that anything with a flat surface, was used by curious toddlers to climb on to, they just didn't suit the kids bedroom. However, times have changed and Master O has been using a little stool next to his bed for a lamp and his books. For guests a table either side of the bed is a must, with room for glasses, phones and a glass of water.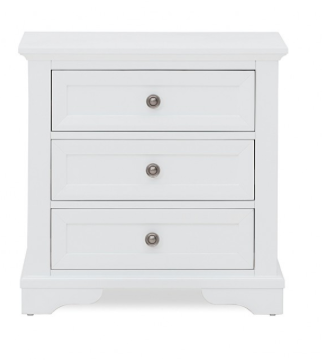 Desks.
This has been a tricky one for us. To desk or not to desk. We have decided to add a desk to his room not as a place to study but more as a place to escape to draw, build and read away form the hurricane baby and curious little sister. It will also serve as a place to store treasures away from little hands and above it we can place a noticeboard to display his memorabilia and certificates.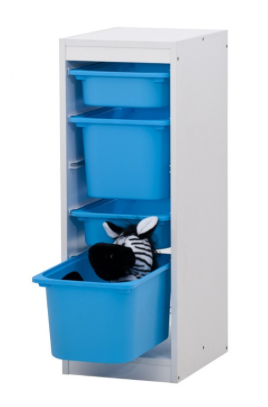 Storage.
We are lucky enough to have a designated playroom in our house but some toys are just not designed for babies! I would like to incorporate some kind of toy storage and display just for special/dangerous toys like the one million lego creations and remote control cars.  At last our oldest child will be able to put some of his things away just for him to play with.
These storage boxes will be perfect and even better they will fit inside his wardrobe, making the most of limited floor space and hiding them away form guests.
So that is where we are at.  Planning, dreaming, measuring, window shopping and weghing up all the options.  So what say you?  Desk or no desk?  Fan of a trundle bed? How gorgeous is that bedroom!
All images and stock can be found at Super Amart.
This is a sponsored post in conjunction with Super Amart.