The Mummy & Son Date – Cirque du Soleil ~ TOTEM
Posted On April 11, 2015
Their is no doubt that adding a new baby to the family is life changing. At 7 and 4 "My pigeon Pair" had well established their "place" in the family and created strong bonds with each other and us as their parents. They have welcomed the Chunk Hunky baby so joyously and love his crazy ways but I can't help feeling that our time with the older two is now stretched a little thin.
Now that our newborn days are over, we vowed that this year, as parents, we would make it a priority to spend some one on one special "date" time with each child. As the dates for the Cirque du Soleil premiere of Totem in Brisbane conincided with school holidays I knew it would be the perfect opportunity to take Master O (now aged 8) on a special date night.
When he was in Prep we went together to see Cirque Du Soleil's Ovo and its an experience he still taks about! They look up You Tube clips of "Ovo" together, re read the program and he recounts to his sister his favourite breath holding moments!
I decided to surprise Master O with our date experience. He knew we were going out together but presumed it was for coffee and dinner. That day we drove the last of our Easter visitors to the Airport and he spotted the "Grand Chapiteau" over the bridge (The Grand Chapiteau is the ginormous yellow and Blue tent the circus is located in)! I thought my surprise was ruined for sure! He spotted it, got excited, asked me when it was opening and begged to go. I told him I thought it had actually been and gone and that it must have closed just before the holidays. Cue dissapointment but at least I was home free!
That night, as we drove to the city, he still had no idea. Maybe that had something to do with all the chatting we were doing about future careers, friends, favourite super heroes etc. He seemed oblivious to the direction we were travelling.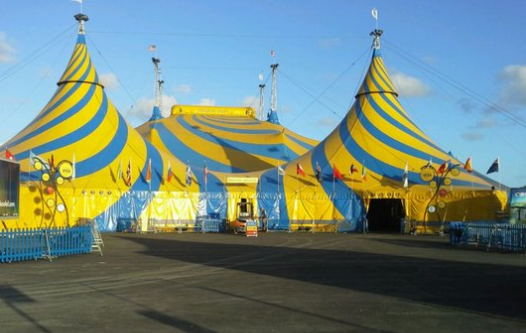 and then he spots this. Well I didnt take this photo as I was driving but this is what the Grand Chapiteu looks like.
Master O: "It's still here Mum"
Me: "What do you think? Should we go?"
Master O: "Wouldnt that be great!"
Me: "Well thats where we are going!"
Master O: "Oh my Gosh, Oh my gosh, NO WAY!!!"
Even as we got out of the car he literally said "I am shiviering with excitement I cant believe we are here!!! BEST. SURPRISE. EVER!!!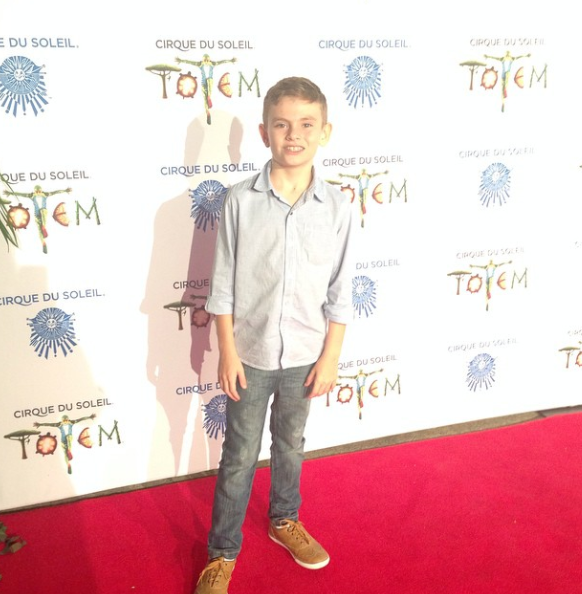 It is really hard to find words to describe the Cirque Du Soleil expereince.
Its quite a small "arena" which gives it a real intimte feel and regardless of seats you feel so close to the action.
The music is played live and the stage set takes upon a life of its own constantly tranforming before your eyes.
But the performers! Oh the performers! Its heart stopping, jaw dropping, death defying, simply AMAZING.
Our favourites…
MASTER O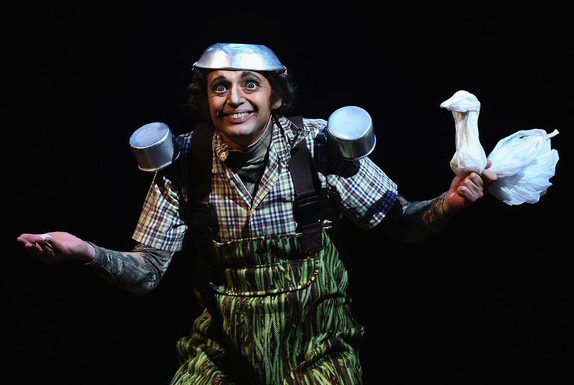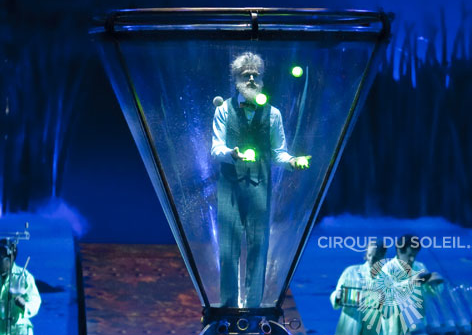 and Me…..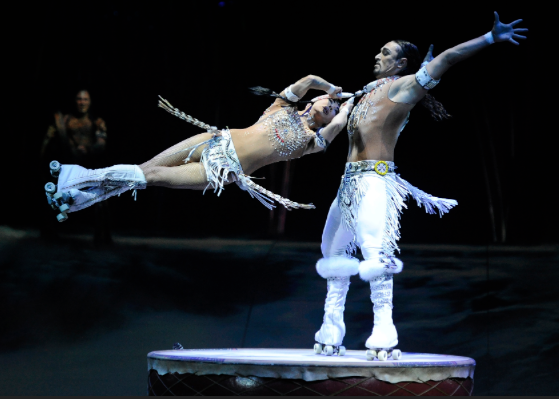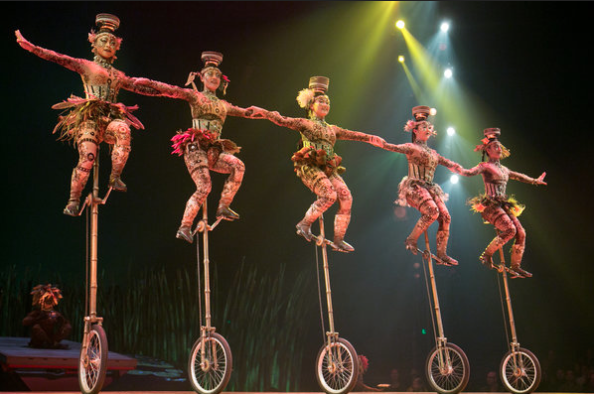 So my tips:
Cirque Du Soleil really is a family friendly experience. There are discount tickets for families for certain performances
Master O first went to Cirque Du Soleil when he was 5. I would recommend that as the youngest age at which children would enjoy the experience. Younger than that it might be a bit long and some effects, noises etc a bit scary.
Grab a booster Seat. The ushers have booster seats available to help little ones see the performance better.
With little kids, choose a daytime show. The evening show starts at 8pm and it was at least 10.30pm when it finished and I noticed many a parent carrying a sleeping child out!
Parking (In Brisbane) is superb with attendants to help you find a park and to assist traffic when exiting.
Make a day of it. Eat Street Markets and Portside are close by and we had plans to go to Max Brenner after the show! Both however are a little too far away to walk with children so plan accordingly.
Food and Drinks are a little pricey (they always are at performances) so eat prior.
Photos and Videos are not allowed once inside so make the most of the photo opportunities outside!
Buy the Program! It's a great way to reminisce on your experience and a wonderful souvenir, my kids love reading about all of the performers.
and lastly, JUST GO!!! It's not the cheapest experience but equivalent to the Ballet or a Stage Show. YOU WILL NOT REGRET THE MONEY. The first time I went I cried. I know sappy but true. I couldn't believe it had taken me 30 years to go to Cirque Du Soleil. It is a bucket list experience. To now have shared this experience with my son is just incredible. Thats what childhood is all about. Time sharing experiences with the ones you love. Soaking up all those moments of magic and wonder. At the end of the night, we dreamed and made plans. In our lifetime we will see every Cirque show together. Here's hoping son.