Our Afternoon Routine Chart
Posted On January 21, 2015
Earlier this week I shared with you our Morning Routine Chart. Our Afternoons are just as important so we have an afternoon routine to follow as well. So without further adieu here is our Afternoon Routine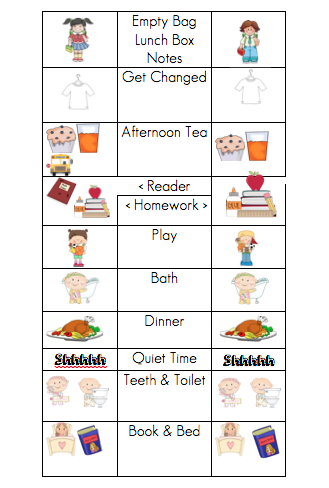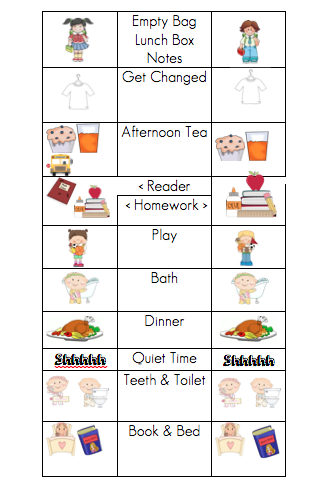 A few notes about our afternoon routine.
We don't have set times that each thing happens but a sequence. For example you have to get changed before you have afternoon tea (to save uniforms). You have to do your homework before you play. You have to brush your teeth and go to the toilet before you go to bed.
NO SCREEN TIME. We have no iPads, phones, computers, xbox etc during the week. We have limited TV time (in the morning only if they are ready early) They can only watch pre recorded shows and it is generally about 15 minutes. SCREENS are only able to be used from after school Friday until 2pm Sunday. Sunday afternoons are our time to get organised for the week.
QUIET TIME: This is a wind down time after bed. You can not let your children get all hyped up and then expect them to go to Bed properly a few minutes later. They can read, do a puzzle, play lego, draw etc. This is also a quiet time as it's the time I am putting the baby to bed.
SET BED TIME: Little Miss A goes to bed at 7pm. It may even be earlier this year as I am guessing full time school will exhaust her! From 7pm until 7.30pm Master O reads in bed. At 7.30 I go and say goodnight to him.
ACTIVITIES. I try to book activities for before school (Tennis) or on Saturday's (Ballet). Last year we over committed ourselves and homework during the week was becoming a chore as it was rushed.
PLAY TIME: In general this is outside play time. They usually ride their bikes/scooter, jump on the trampoline, play in the cubby. we are extremely fortunate in that both their schools value outside play time. I have actually chosen their Prep programs based on the quality and quantity of outdoor play! If they make any mess they need to clean it up before their bath.
BATH TIME: All children have a bath at the same time! Including the baby! Not all in together. I fill the bath for Little Miss A and the baby. Once it's full Master O has a shower. This is to save my sanity. I can supervise/assist all children at once so it takes a third of the time!
HOMEWORK BEFORE PLAY: During Summer this is fine as it is daylight. During Winter I will sometimes let them have a play before homework as it gets cold and dark early. I also bear in mind that Master O has had 45 minutes to unwind after school with his friends on the bus and then a walk or scooter home. So he has generally got his "wiggles" out. Little Miss A has had a walk or ride to the bus stop to pick him up as well. If your children don't have the chance to be active between school finishing and homework, YOU HAVE TO MAKE THEM!!!! I recently listened to a lecture from an OT who stressed the importance of physical activity before we ask children to sit still and concentrate. THE BEST FORM OF AFTER SCHOOL PHYSICAL ACTIVITY IS JUMPING ON A TRAMPOLINE! It exercises core strength, cardio, balance and coordination. Even just 5 minutes!
AFTER DINNER: Always allow enough time between dinner and bed. This gives food a chance to settle and digest.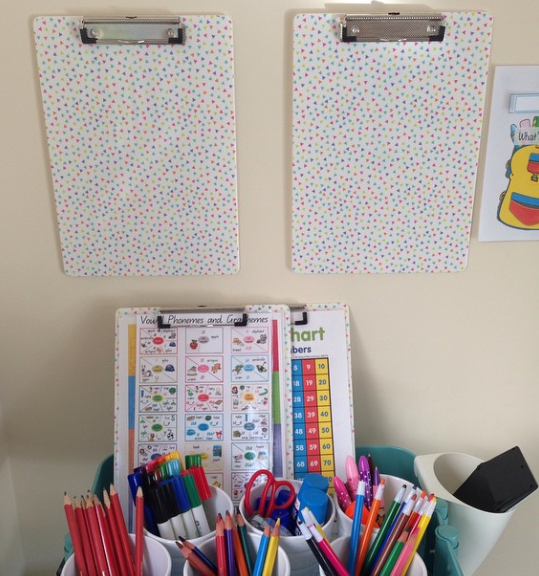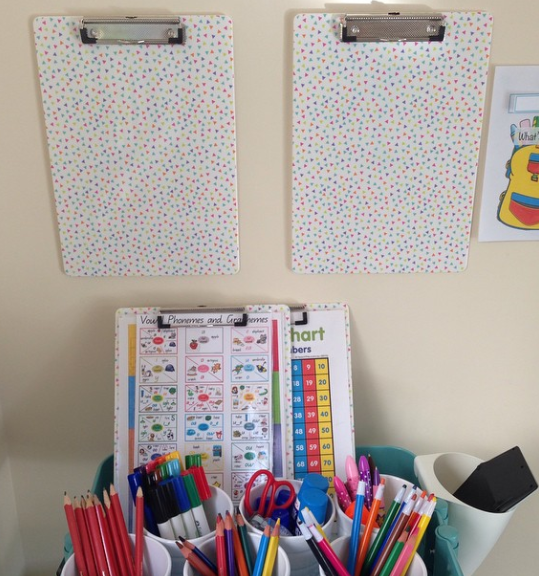 I have created a chart for us with two sides (one for each child) As they do different things at different times (they get home at different times.) Each child has a peg on their side of the chart. As they complete each step they move their peg down. This keeps them on task and accountable.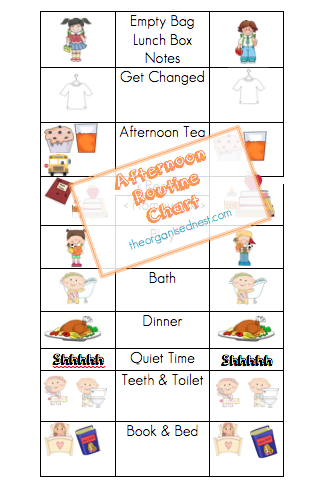 I would love to makes this a FREE Printable for you but would you use it? This is OUR routine, would it work for you? I know everyone is different! Please leave me a comment to let me know if you would like a copy!
Of course you wanted it! HERE IT IS OUR FREE PRINTABLE Afternoon Routine