Back To School: Buying Name Labels
Posted On January 15, 2014
It's no secret that I love to label. I have dedicated much of my life to ensuring everything and every place in our home is labelled! Labels ensure items find their way home. This is never more true than all those items that leave your home to visit school, Kindy or work each day!
Pencils, scissors, socks, and books. If it is leaving your house, LABEL IT! If you LOVE it LABEL IT!
With a new school year ahead now is the perfect time to stock up on name labels.
WHAT TO LOOK FOR IN LABELS
QUALITY. This for me comes before everything else. Labels are one of those items where you really do get what you pay for. There are many label companies out there these days but don't scrimp on quality for the sake of saving a few dollars. A good label can last for many years, buy it cheap and you may have to buy it twice, costing more money in the end.
Look for labels that;
Are Dishwasher Safe (For lunchboxes)
Are Washing Machine Safe (For Clothes)
Come in various sizes.
Are Laminated (paper labels are just not durable)
PRICE. This is where it pays to be organized. Finding a great price does not neccessarily mean finding the cheapest. Make a list of the type of labels you will need. Savings can be found by purchasing a value pack that includes a variety of label sizes and type that best suits your needs. You can buy a cheap pack but if it's full of labels in sizes you don't need and doesn't include a number of the ones you DO need!
DESIGN. I am going to be looking at these labels A LOT. They may as well look good. Also for younger children, having a particular picture or theme to the labels, assists non readers to identify which items belong to them. E.G My shoes are the ones wit the airplane picture. I also like to get a variety of colours in my pack to help with colour coding! I know it is a bit OCD but in the past I have used different colours for different days of the weeks or to even to help identify the left and right shoe (Red for Right, Lime for Left) By putting two matching colour labels
BEFORE YOU BUY ANYTHING.
DO YOUR HOMEWORK. Check with your school what needs to labeled. Some classrooms, especially in the early years have communal pencils, crayons and even scissors. These items often don't need to be labeled. However, some times it also pays to label everything just the same as at least you are in with a chance of unused items being returned to you at the end of the year. Ask the class teachers or even parents who have been at the school before.
CLOTHING AND SHOE LABELS. Don't forget to include clothing and shoe labels. Have you ever tried to work out whose black velcro shoes belong to who in a see of 25 pairs of identical shoes? Clothing labels generally come in either the stick on or Iron on variety. In my experience although the stick on labels are obviously much easier to use, the iron on ones do last longer.
THIS IS HOW WE DO IT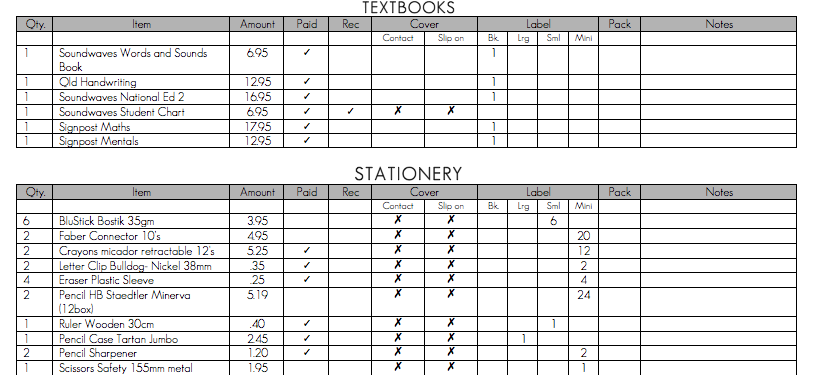 I make up a big table. If you think I love a good label, you haven't seen me with a table! Just in word I create a label to track what we have purchased, what we have received, what kind of book cover we will need and what kind of label we require for each item.
By doing this I can easily workout how many of each item, we need and make the most of value packs.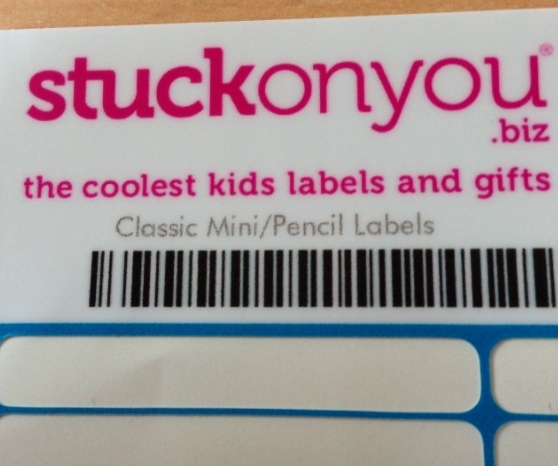 This year we needed LOTS of Mini Labels. EVERY pencil, text and crayon was required to be individually labelled. In past years we have required lots of regular name labels and book labels. I also made another table for uniforms. With two children in completely new uniforms this year I needed to stock up on clothing and shoe labels.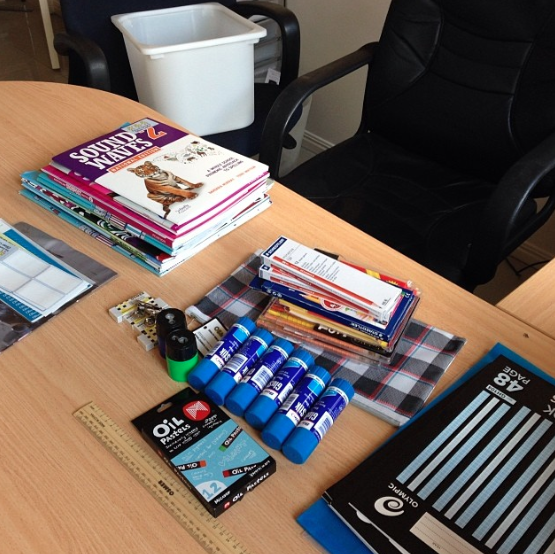 So who do I use? This is actually my fifth year of using Stuck On You. At first when Master O went to child care I choose them because they were cute. After seeing how durable they were I continued to buy them! I have even bought Little Miss A a few before, not that she has ever really needed a label!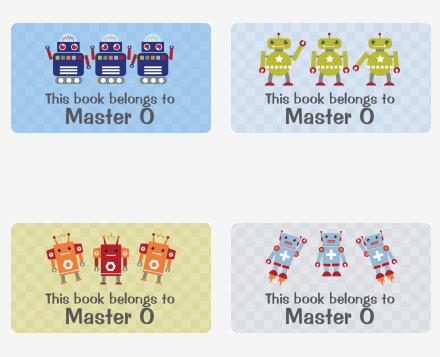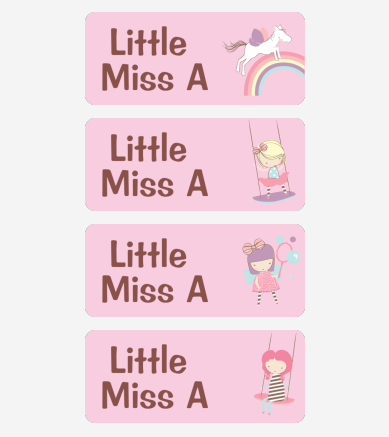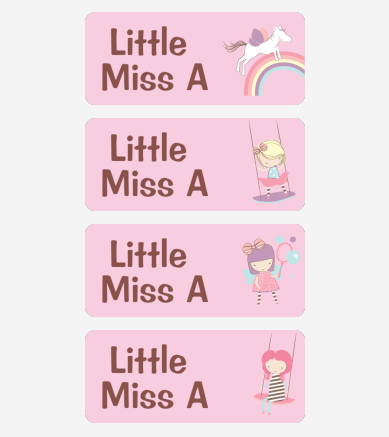 I must admit, throwing myself into the preparations for Back To School has taken my mind off the fact that my Little Miss A, who has never been away from me, is going to KINDY!!!!
So are you a labelaholic? Got your labels sorted for this year?
WANT TO WIN A $25 Stuck On You Gift Voucher?
We are giving away 2 x Stuck On You Gift Vouchers! Just Enter via Rafflecopter below!
DISCLOSURE: This post is sponsored by "Stuck On You." I have received products in return for my honest opinion and review of their great products!