100 Kids Healthy Lunch Ideas
Posted On January 14, 2014
Ever feel like after a few weeks into the school year, suddenly your enthusiasm for making lunches wanes? I start off, full of good intentions and enthusiasm and after a week or two I am back to vegemite sandwiches and a yoghurt. With two lunches to make this year, and a picky eater, I decided to make a list of ideas for their bento style lunch boxes, to offer variety, inspire me and to hopefully introduce some new items into their food repotoire!
I have written before about how I plan the kids lunches. Using our lunchbox planner, I I make sure they have a variety of Protein, Calcium, Grains and Fruit and Veg. I have used this same format to record my ideas in a table.
Every school has it's own food requirements and restrictions especially when it comes to nuts, eggs and dairy so check your schools handbook before packing lunch.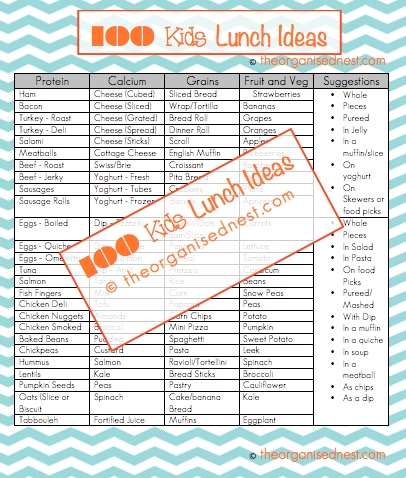 I am printing this out, laminating it and attaching it to the inside of my pantry.
You could even use a whiteboard marker to cross of foods they have had that week or to highlight some form each list that you know will be a winner!
Simply Download and Print [download id="12″]
Feel free to share the lunchbox love with your friends!