Make me a Costume! Make at Home Costume Ideas for Book Week
Posted On August 20, 2011
Make me a costume Mummy!  Sound familiar?  It's that time of year again, Book Week!  With Book Week comes the yearly mayhem of costume making!  If you think making a costume for a child is hard, imagine what the teachers go through! Some book week costume making tips
Does your school have a theme? Many schools make it a little easier by having a theme such as nursery rhymes or fairytales 
Is it a book character?  The line between book and movie character has become a bit blurred.  Rule of thumb was the character first found in a book?  Does your child know the "real" story (the book version) if so…go for it! 
What do you have at home?  Home made costumes do not need to be time consuming or require loads of creativity but always look more effective!  Every year I see a million store bought Disney princesses and it just melts my heart to see a homemade costume lovingly made (it's must be love if you made it at midnight the night before!)
So get the glue gun ready, here is this years compilation of easy to make at home, book week costumes.
Caterpillar or Butterfly
The Very Hungry Caterpillar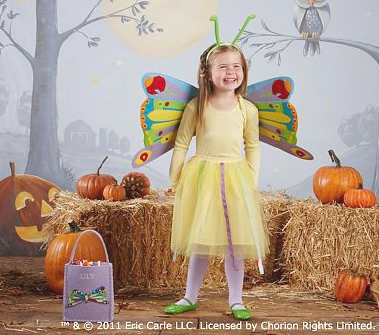 Just use your child's ordinary clothes and add some cardboard painted wings!
Owl
The Owl and The Pussy Cat
The Sleepy Owl
Owl Moon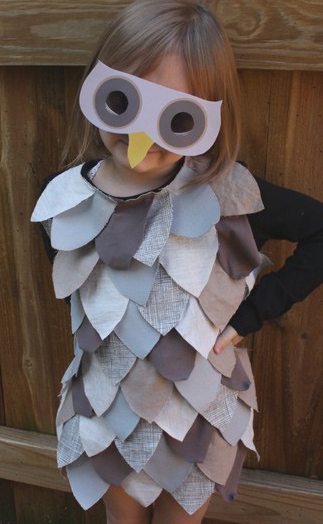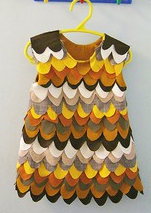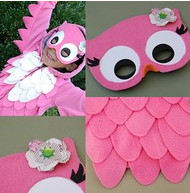 Isn't the first little owl tooo cute to hoot!  The key to the owl costume is definitely the scalloped fabric and a very simple mask.  As you can se by the gorgeous pink costume, it can look effective without being realistic!
Lamb or Sheep
Where is the Green Sheep?
Baa Baa Black Sheep
Mary Had A Little Lamb
Russel The Sheep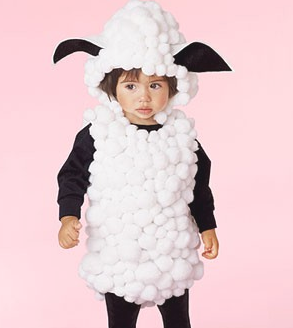 Take an old shirt and cover it with cotton balls.  Wear all black or white underneath (or green if you are the green sheep) and you have an easy costume!  Don't want to spend all day gluing cotton balls on?  Cut out a piece of contact the same size as your shirt and staple it on with sticky side up.  Push the contact into a pile of cotton balls and there you have it!  They wont last a lifetime but will last a day!
Hav an old wool pillow case at home?  Cut some arm holes pop it over your plain coloured clothes and instant sheep! 
Spider
Incy Wincy Spider
Charlotte's Web
One Hungry Spider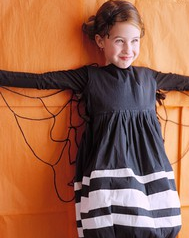 So many easy variations of this Spider costume!  The first picture is a simple black outfit (that you probably have in your cupboard) and add some string web to the sleeves!  If you have extra time the spider hairband would be easy to make and really sets off the cute factor!  
The second picture is a black outfit, with two pairs of blackstockings stuffed with newspaper and attached to the back of shirt.  I love the googly eyes glued onto the beanie!
The Third uses black socks to make the spiders legs and how gorgeous is the Mother's costume
Wolf
Little Red Riding Hood
Three Little Pigs
Where the Wild Things Are
Hattie and the Fox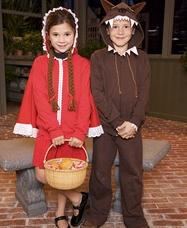 Enter the hoodie!  This has to be one of the easiest costumes for boys!  Plain brown or even grey tracksuit with hooded sweatshirt.  Cut out some white teeth.  Staple them on and maybe add some big eyes!  Wolf or fox or even monster form Where the Wild Things Are?
Eloise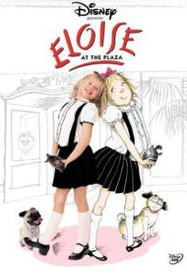 Eloise WAS A BOOK CHARACTER long before Disney kidnapped her.  This is an easy outfit that requires no glue gun!  A simple black skirt, black suspenders, white shirt, knee high socks and of course the trademark red bow!  
 Dragon
Puff the Magic Dragon
Rascal The Dragon
Dragon's Dinner
That's sponges cut up into triangles!  Simply hot glue them down the back of any plain outfit and you have instant dragon (or even a Dinosaur)!  Even better if you can glue them onto the head part of a hooded sweatshirt or beanie!
Safari or Jungle Explorer
Walking through the Jungle
Rumble in the Jungle
The Jungle Book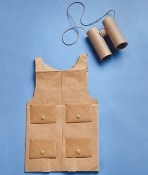 This is exactly what I am talking about when it comes to simple and yet so effective.
You would have all of this in your house!
Tiolet paper rolls, brown paper bags and a bit of string!
Paper Bag Princess
A teacher favourite!  Take a large paper bag cut some arm holes in it, add a tiara or crown and you have a "Paper Bag Princess!"  These extra large paper bags can be hard to find in Australia but you can use butchers paper (ask your child's teacher to borrow some!) or even  brown paper off a roll cut and stapled into a dress shape!
Chika Chika Boom
This is a much loved Early Childhood Children's book that teaches the alphabet.  If you don't have overalls like the picture above.  Brown Pants (for the trunk of the tree) and a green shirt (for the branches) and just add some alphabet letters!
I had my heart set on wearing the Paper Bag Princess costume this year, but the Spider Web String arms with cute hairband has my name on it!
Edited to add a READER REQUEST –
Kelly is looking for a costume for an "Outerspace Theme"
White long sleeved shirt, Grey pants, gumboots a painted box and a hole cut in a bucket! Instant Astronaut!
With a few colour changes he could be an out of space robot!